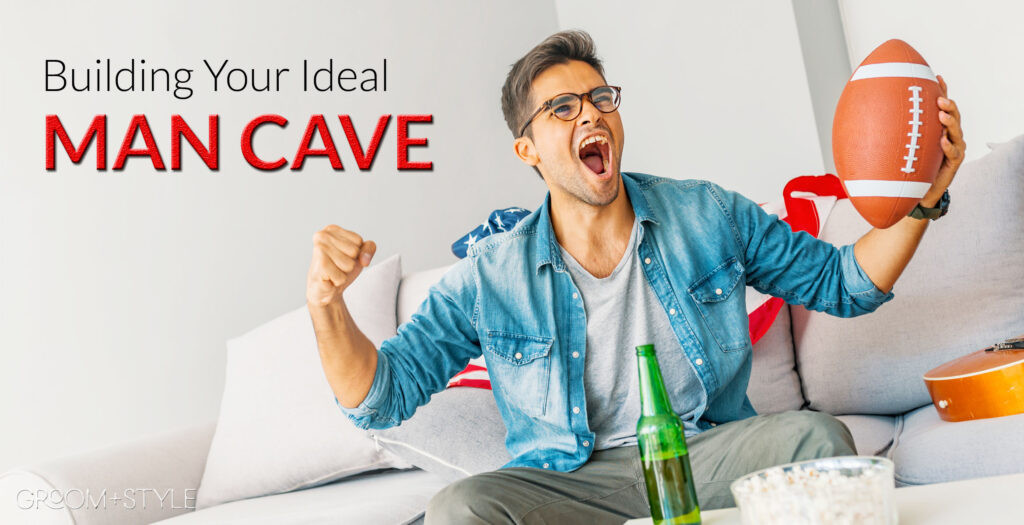 One approach to give yourself a space for enjoying your interests and gathering with friends without disturbing others in the home is to build or renovate a room into a man cave. Not to add, the man cave's entertainment and gaming focus may be shared with the entire family when you don't currently require the alone time, giving everyone an opportunity to participate in your pastimes.
Man caves frequently have areas for entertainment arrangements, such as loud sound systems and movie theater-style viewing environments. Additionally, they frequently create room for gaming, whether your preferences are video games, sports, or all three simultaneously.
What Is a Man Cave Buildings?
A man cave is a unique area in the home created for the requirements and hobbies of the man of the house, including a place for him to host guests. The area provides a haven that frequently operates under separate guidelines and welcomes behavior that differs from that of the rest of the house.
The man cave's furnishings are intentionally masculine, and they frequently differ from those used throughout the rest of the house. As a result, it can serve as a space for personal expression and originality within the home.
For many, the man cave is a space to retreat to and collect oneself during times of stress. Having a space to call your own can help to improve mental health. At the same time, most man caves have the capabilities to host a gathering when it's time to watch a match or have a poker game.
A man cave isn't meant to exclude your family. While there will be times when you need to be alone or are having company over, you can otherwise make this space available to your family.
Why Should You Build One?
You need a space to yourself in the home.

You have hobbies that don't fit in other spaces in your home.

You frequently entertain with big game or sports nights.

You need a space in the house where you can express your own style and interests.
Planning
Most man caves require a little renovation. Planning will save you from some costly mistakes. Planning also means creating a clear layout.
Consider how you want to use the space.

Not everyone has the same needs for their man cave. Some people will want to use it as a workshop for their hobbies, while others will be more interested in building a gathering space, a place for entertainment, or a total relaxation space. It's important for you to take some time to think about how you want to use your space and what will most benefit your lifestyle.

Plan for variety.

You might be inclined to theme your man cave around one central activity. However, it's important to plan for variety so that you can play games one day, and still have the opportunity to watch a movie or relax and read a book on another. Think about how you spend your time and plan the man cave to offer a space to accommodate each of those activities.

Plan spaces for food and drink.

When you're having a good time in your man cave, you won't always want to have to go to the kitchen for a snack, beer, or to mix a drink. Plan spaces to store your snacks, as well as space for a cooler, or even a small dorm-type refrigerator, for drinks and refrigerated snacks.

Check the Electrical Capabilities of Your Space.

Most man caves are technology-heavy, including home entertainment setups and gaming rigs. These setups have very specific requirements, particularly when it comes to

electrical work

. Evaluate your electrical requirements ahead of time so that this can be the first thing you tackle. Different spaces will have different existing wiring and needs. When in doubt, it's best to consult with a professional electrician before attempting any major electrical renovations.

Think about the plumbing.

Many man caves don't need their own plumbing. However, if you want your space to have a wet bar, you'll need to

consider the plumbing

. Running water to your bar will make it much more autonomous and functional. If you need to run or

install plumbing

to your man cave, this should be one of the first things that you plan for. Running new plumbing can be a complicated process, so it's important to consult a professional plumber once you have a plan in mind.
Budget
Once it's all set up, the average man cave can cost between $6,000 and $10,000, which for many homeowners can be a steep price, especially if you're doing the renovations all at once.
Just as with any other renovation and home decoration, it's important to set a budget for yourself. Otherwise, you might see your man cave expenditures as indulgences that fall outside of normal budgeting. However, this type of thinking can quickly get you into trouble, and if you're stressing about bills and debt, then you certainly aren't going to be able to enjoy your man cave.
To begin building your budget, identify the necessities that will go into making it the space what you need it to be. You can start brain-storming this by separating a list into two columns. On one side, list everything that your man cave 'Needs To Have,' and on the other side, list everything that it would be 'Nice To Have.'
Remember that everyone's renovations will be different depending on their space and needs. It's impossible to know exactly how much your renovations will cost until you get a quote, so keep in mind that any renovations may significantly alter your budget.
Deciding On The Location
One of the luxuries that most man caves enjoy is a sense of separation from the rest of the house. The separation is part of what makes it a good retreat as well as a fun and relaxing space.
Also inherent in the sense of separation is the possibility for the man cave to have its own rules. It might be a safe space for things like accidental spills and messes while you enjoy the game. The man cave rules have a different vibe from the rest of the house depending on what you need from it.
To allow for this sense of separation, you'll want to have the option to shut the door or not depending on your mood. The ability to shut out the rest of the house can create a psychological sanctuary that helps you to ground yourself. It also means that most ideal man caves have four walls and are not simply extensions of a family den.
Most people like to build their man cave in a garage or basement to have a clear threshold between the man cave and the rest of the house. At the end of the day, though, you have to use whatever space is available.
Shed
When you have no other rooms for building your man cave, consider constructing a shed in your yard to create a getaway space. One big hurdle for designing a man cave in a shed is running the necessary electricity to the shed. This should be your first step when planning. Additionally, your shed will require weather- and water-proofing to protect your electronics. Your shed can also benefit from climate control, such as heating or air conditioning. Once you have the basics figured out, the shed can also be a foundation for expansion in the long run if you find yourself needing more room.
The key to decorating a small space, such as a shed is to shy away from darker colors will make the space feel smaller. Try decorating with brighter colors or lighter shades to open up the space. Additionally, use optical illusions, such as mirrors, to help the space appear larger.
In some cases, your shed will be too far away from your home or wireless router for you to get a good wireless signal. When this happens, install a WiFi extender. This will take your WiFi a little further so that you can enjoy browsing, downloading, and streaming inside the man cave.
Attic
Due to space and height restrictions, attics are a difficult part of the house to domesticate, and many contractors won't attempt to finish them. If this is your only space available, you're going to have to be ready to put some work into it and be flexible with your expectations. Nonetheless, a good attic renovation can make some of the most interesting man cave designs.
For many attics, you will need to fortify the floor before it can hold your man cave furniture and items. You can also disguise the slanted walls by building short knee walls, which will give you some wallspace for decoration and storage. Most attics already have good insulation, but you will want to be sure to soundproof the attic as much as possible. Additionally, attics tend to run hot, so you will want to keep a fan around to cool it down in the daytime.
Basement
Basements are one of the most common locations for a man cave. They are often large and spacious, many will already have plumbing and electricity running down to them, and they offer a separation from the rest of the house. A refurbished basement should be well-insulated to be cozy and warm.
Prepping a basement to be a man cave, or any other form of finished room, requires waterproofing the walls and floors. Throughout the different seasons and weather, water may dampen or seep up through basement floors and walls, which can ruin your flooring. For the floor, it's important to use a layer of waterproof underlayment before covering the space with your desired flooring. To waterproof the walls, use a waterproofing primer under your desired paint top-coat. This will help to keep your electronics and wall-hangings safe from sweating walls.
Keep in mind that your basement most likely doesn't receive much if any natural light. This means putting a lot of thought into how you will light the space. If your basement man cave is too dark, it will look dreary, cramped, or overly cluttered. Use vibrant or lighter colors to paint the walls and brighten the space.
Additionally, different locations may need different kinds of air quality appliances, such as humidifiers or dehumidifiers, air conditioning units, air purifiers, and deodorizers.
Garage
A garage man cave can be a fun and creative space. However, you will need to be creative about how you share the space with cars and any other uses in your garage.
When setting up a man cave in an unfinished space, such as a garage, your first step will likely be soundproofing the space and insulating it to improve your climate control. You can do this by installing insulation and fiberglass. Soundproofing the space also gives you the opportunity to play a loud sound system at night without upsetting the neighbors.
If you are designing your man cave in an active garage where you will be storing cars, then it's important to design the layout around knowing where the cars will be parked and the actual space you have. In some cases, the car vibe can actually benefit the style of your man cave and centralize your theme around showing off your car.
Spare Room
A spare room man cave can be the least labor-intensive renovation, since the spare room will already be a finished part of the home. This means it will already have the necessary electrical wiring, and you might even luck out with a nearby or attached bathroom.
Even small rooms can give you everything you need to make a satisfying man cave. One important consideration for a spare room man cave is the possible noise level. If you're close to other rooms in the home, you might cause a disturbance, so one practical way to prepare the spare room is to soundproof it.
If you're building your man cave in a small room, consider ways to be thrifty with your space. Use multipurpose furniture, including multipurpose storage furniture. The size of the room will also impact the theme. Use the walls for storage, including a mounted television and speakers, so that you have more floor space for activities and seating.
Measuring
Once you decide where your man cave will be located, it's time to make a floorplan, taking actual measurements of the space. Make a few copies to sketch out a few ideas for the layout. This floor plan is easily transferable to a shopping list, when it's time to purchase furniture for the space.
Your measurements should start with looking at how the room will accommodate the largest of your furnishings. Once you see how the largest furnishing fit into the room, you can estimate and plan for the space left for other furniture.
Most designs will centralize around a focal point. Larger man caves may have multiple focal points, such as a television and entertainment space, a bar, and a game table. Smaller man caves, however, should centralize around one focal point to appear less cramped.
Choosing a Theme
Don't be afraid to choose a theme and get into it!
Just because it's a man cave doesn't mean that you can't put together a clean and thought out appearance. Indeed, the more thought that you put into space, the more impressive it will be. When it comes to a man cave, the gimmick can be part of the fun.
The theme for your man cave should set a vibe that reflects your own tastes and interests. Many man caves are traditionally centralized around sports themes, and imitate the style of an upscale sports bar. However, your own man cave can be completely different based on your own interests and preferences.
Metal and Wood

– Need an all-purpose theme? There's nothing better to combine modern and rustic styles than a clean-looking metal and wood theme. These industrial materials not only look attractive and rugged, but they are also very durable, and can fit the bill for most of the furniture that you will need.

Sports Themes

– Many man caves are centralized around a favorite sport, from football to golf. Key decorations include sports paraphernalia. Some people will even dedicate their man cave to a favorite team.

Retro Gaming

– Retro gaming themes usually enjoy the old school gaming decor, while also using modern games for entertainment as well as arcade games and pinball machines.

Amps and Guitars

– Channel all of your old garage band dreams into your well-soundproofed man cave. Hang up your musical collectors' items and favorite album artwork, display your guitars, and set up your turntable or record player. Don't forget the amps for when your friends come over to jam.

Rustic Styles

– Bringing the natural grains of wood inside can add a lot of warmth and interest to your man cave. Not to mention, natural wood will give your space a pleasant smell and atmosphere.

Industrial Styles

– If you have exposed brick or concrete floors, you can make use of them with an industrial-style man cave. Use accent colors, such as a painted or wood-paneled wall and make sure it's well-insulated to keep it warm.
Having trouble coming up with a theme or design style of your own? Think about how your favorite bar is decorated. Bars and gathering spaces that have impressed you in the past are a good place to start looking for inspiration. Also browse online for man cave setups that appeal to you.
Once you know your theme, it's a good idea to pick your style and stick with it. You don't want your man cave to look like an unintentional stylistic mash-up. All of the major parts of your man cave should fit your theme, including wall color, furniture style, and flooring.
Essentials For Creating Your Man Cave
When it comes to filling your man cave with the essentials, here's what to expect.
Tech
The Right TV Display

– Most man caves are not complete without a TV. While large televisions can be a great viewing experience, it's also important to take into account the size of your space. The most important size consideration is the distance between your seating and the television display. Ideally, this would be a large HDTV. The television often marks one of the main focal points where you and your buddies can watch sports, play games, or watch movies. Of course, if you have other ideas in mind, your room doesn't have to center on the TV.

Consider a Projector

– Some man caves will use a projector screen instead of a TV display. In this case distance becomes even more important, so it's best to do your research on projector installation and rigging.

A Sound System that Fits the Space

– Your man cave is a great place for your ideal surround sound setup. Many of these installations should stay in place for years, so it's important to consider the position of speakers before you make anything permanent. When you are planning, also pay attention to how you will plug in the speakers. Even wireless speakers need a power source.
Furniture
Furniture is one of the most important parts of the man cave, since this is where you will relax and spend time with friends. In addition to being comfortable, your furniture should fit the space and theme. Choose your furniture wisely, as the more you have, the more cluttered your space will begin to appear.
A Recliner

– Recliners are high on the man cave essentials list. They allow you to relax and enjoy your space, whether you're reading or watching something.

Comfortable Seating

– However you choose to set up your seating, it's crucial that it be comfortable and practical. You want your guests to enjoy sitting in it for long periods of time. Ideally, the seating will also be durable.

A Combination of Different Seating Types

– It can help to open up the space to have different kinds of seating, such as a comfortable sofa and a few bar stools.

Build a Bar

– Having cold beer is indispensable to a man cave, or if you would prefer, a small bar for mixing drinks. The best man caves have a bar where you can serve drinks to your guests without taking a trip to the kitchen. If you're handy, you can

build your own

dream bar; however there are many prebuilt bar units that you can purchase to fit your space. Also consider installing a refrigeration unit for drinks and snacks, as well as a small pantry or cabinet unit for snacks.
Workbench

– Many people will find that they will use their man cave more if they can do all their favorite hobbies in it. A workbench can enable you to keep up on your hobbies and enjoy your space how you want.

Multi-use Furniture

– Multipurpose furniture will help you use your space more efficiently. This might mean display cases that also offer concealed storage or a coffee or card table with its own built-in storage.
Decorating
The decor in your man cave should help to tie the room together and contribute to its overall theme.
When setting up the decor and layout of your man cave, try to balance the different areas. Your games table shouldn't overwhelm the entire space, nor should your television and entertainment area completely take over. Plan out ahead of time the different sections that you want for the room, so that you can create a good balance when the time comes.
While often overlooked, lighting is an important part of making your decorations look good. When it comes to lighting a man cave, ceiling lights tend to be traditional, as well as pendant lights over the bar. Accent lights can also add color variety and warmth. Make sure that your lighting is flexible enough to dim, or vary the lighting to create a good environment for your different entertainment types.
Walls
Let the Walls Fit the Theme

– If you're on a budget, all your walls really need is a fresh coat of paint. Nonetheless, there are also more elaborate ways of making your walls match the theme, such as paneling them in reclaimed wood to bring some natural materials into your home. Also consider stone, brick, or even metal to help set the mood of your space.

Decorate with Signs

– If you're at a loss as to how to decorate the walls, consider some of the old fallbacks, such as beer signs or neon pub lights. Vintage or old fashioned liquor or beer ads are classics as well. Similarly, flags can be useful wall-hangings to add a little texture to the space.

Frame Posters and Artwork

– Consider framed posters that fill out your decor. Common poster themes tend to include favorite actors, movies, musicians, or athletes.

Add in a Dart Board

– If you have the space for it, a dart board can be both a great decor and a great game.
Floors
The flooring of your man cave should match your theme the same as anything else. Consider hard wood with an area rug. Or, on a budget, you can create interesting effects with laminate flooring, while also insulating the laminate with a layer of soundproofing.
Carpets and rugs have a lot to contribute to a man cave, since they add warmth to a room. However, you must care for them, and they are more likely to show messes and stains over time.
If there's going to be a noisy area of your man cave, such as a home theater setup, carpeting that area will help to absorb the sound. This isn't just about keeping the noise down. It also helps to improve sound quality, so that the sound doesn't reflect from hard surfaces and become distorted.
Other Decor
Create a Display

– You can display your sports or other interest paraphernalia, trophies and medals, as well as collectibles and memorabilia. Consider also displaying some of your favorite equipment from your hobbies. Display sports, hunting, fishing, or musical equipment that you're proud of. Don't forget to frame and display some of your own photos as well.

Display Your Personal Luxuries – Everyone will have different personal luxuries to outfit their man cave. Some people might have amps and musical instruments, others might have a humidor for their cigars. The point is to make sure that your man cave is a space that suits your preferences, allowing it to become a place that you would happily use.
Entertainment
Entertainment is one of the central focuses of man caves. This is what turns it from an individual or personal room into a gathering space for friends.
Also remember that not all entertainment is based on television. Depending on the design of your man cave, keep around small entertaining odds and ends, such as a few books or magazines, handheld puzzles, gadgets and points of interest, and hand-held games.
Creating a cinema or theater is great, but it's also not always what your man cave is about. If you're setting up a theater and projector system, it can be a good idea to set it up so that you can hide the screen away when it's not in use. This will allow other aspects of your man cave or entertainment to take central attention and allow the room to be multi-purpose.
Games
Have a Game Table

– It's easier to bond with your guests when you have something to occupy yourselves with as you socialize, and what's better than a little rivalry among friends? Many man caves have a game table, such as a pool table, foosball, or a poker and card table.

Optimize the Space for Tabletop Gaming

– Whether it's board games, miniature wargaming, or tabletop RPGs, such as Dungeons and Dragons, your group gaming campaign can go much more smoothly with the proper setup to keep your tools, pieces, and dice all in one place. A designated tabletop gaming space will also keep you from losing progress in between gaming sessions.

Video Game Consoles

– Modern man caves have found that video game consoles are indispensable to the man cave entertainment. You'll, of course, have your own favorite games, but it can be worth it to also stock some multiplayer and group games for when you have guests visiting.
Sports
Have Access to the Games

– It's not enough for a man cave to be themed and styled around sports. You also need to have access to the games, including subscriptions to sports packages that allow you a wide selection of games to view with your buddies.

Miniature Indoor Sports

– Also consider having a few indoor sports around, such as indoor golf or putting practice.

Sports and Exercise Equipment – You might also include your own sports and exercise equipment in your man cave, so that you can practice and exercise in the peace of your own space. Consider stocking dumbbells or a bench press.
Creating A Man Cave On A Budget
Ultimately, your man cave is a space that you can call your own. It doesn't have to follow any rules but your own, and all it really needs is for you to feel comfortable and enjoy your time in it.
Take Your Renovations Slowly.

When you're renovating and decorating on a limited budget, go slowly with your purchases. Prioritize the most important parts of your man cave plan, and start with the basics. You can always add and upgrade later.

Rely on Color to Communicate. If you're on a budget, you may not be able to go all in for your theme. You can do a lot to communicate the mood and design of your man cave just with color. Begin with paint, which is both easy and cost-efficient.
Consider that colors alter our moods when we're in a space. Red, for example, is a reactive color that can cause us to be quicker to release our inhibitions, if you want to build a lively man cave. One the other hand, blue can allow a more calming and relaxing atmosphere to end a long day. Strong neutrals are often associated with masculinity, such as dark grays, woody browns, slates and deeper blues, which can help you feel stronger in your space.
Buy Used Furniture, Decorations, and other Equipment

. Shop around for good prices and used furniture, and hold off buying until you have the right pieces at the right price. Keep an eye out for when others might be upgrading their own man caves, since they might sell you their furniture at a low price. Buying used also includes the games, such as pool tables and gaming consoles.

Repurpose Things You Already Own

. Chances are, many of the things you want in your man cave are already located in different places around your home. Now's the time to collect them into your space and make it your own. Additionally, pull furniture that doesn't have a use in other rooms, or

DIY some of your furniture

,

decorations, and shelving

.
The Best Man Caves To Get You Inspired
The Man Cave is designed to be inviting and personal to you and your friends. If you're still having trouble coming up with the perfect theme for your man cave, here are a few ideas to get you started.
Garage Ideas
Make it a car theme. You're already in the garage, so there's probably a car nearby. Make your dream garage look like a car showroom by displaying your models, favorite vehicles, and a few posters.
Build a bar in your garage. Many people already have a water pipe running from their garage to a utility sink. You can take this plumbing one step further by building a full wet bar in your garage, complete with taps for a mini keg from your favorite brewery.
Create an extra room in your garage by building a loft. This will allow you to store more items and make the space more efficient. If you're running out of space in your garage, try building a sublime man cave. You can keep your tools and workshop below, and enjoy watching TV and seating above.
Basement Ideas
Have it all. If you have a large basement, you can use it for your building design just the way you want. A bar and seating area, as well as a pool table or games space, make up this establishment. There is plenty of room for decorations and displays.
Create a sophisticated nook. Some men like to get away from the hustle and bustle of everyday life by reading, enjoying a glass of whiskey, and taking some time alone.
Make it double as an exercise space.

Sometimes you need your man cave to be a space for exercise. Put up a rack of free weights, get a bench that you can use, hang a few mats on the wall, get yourself a punching bag, and you're all set. Just don't forget the comfortable seating to relax in once you're done exercising.
Attic Ideas
Create an interesting staircase

.

If you have a pull out loft, you'll want a more user-friendly staircase to get in and out of your perfect shed space, especially after you've had a few drinks.
Make it space-themed. A space-themed man cave is a great option for a home with an attic area. With a nice window to the outside, the space can be customized to reflect your love of space and astronomy. Observe the night sky with a telescope and let your imagination take you on a journey.
Install skylights

.

If your attic starts to feel too cramped, install skylights that let in natural light. Skylights can add a new and unique mood to a room, making it more atmospheric.
Everyone can use their own space in the house, which is why male caves are so important. They provide an opportunity for you to be yourself and relax. You can also enjoy some of your favorite things.