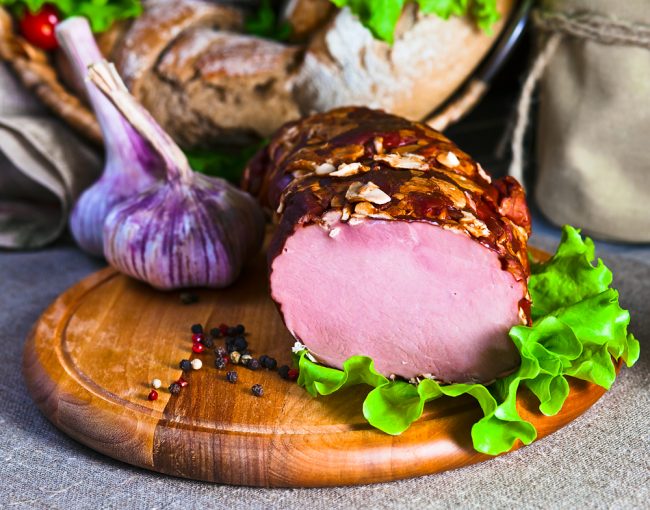 Let's get the "bad news" out of the way first, so we can move forward with our list of the top 5 best electric smokers.
The Best Electric Smokers Can Almost Replicate Wood-Fed Smokers
Chances are slim that any electric smoker is going to produce meat with the exquisite flavor profile, amazing crust and perfect "smoke ring" that you'll get with the very best charcoal or wood-fed smokers.
The reason is simple: the combustion gases created by burning large amounts of wood or charcoal aren't present when an electric element is responsible for generating cooking heat. Those gases are what create the distinctive smoked flavor in meat, as well as the telltale pink ring on the outside of the meat which shows it's been smoked.
Don't despair, though! The best electric smokers can come pretty close to the taste of barbequed meat slow-cooked over wood or charcoal.
Most electric smokers will do a terrific job on other types of food, including fish, cheese and bacon. Almost every electric smoker will produce delicious food, so whether you've decided on electric for reasons of convenience (the "set it and forget it" approach) or because of logistics (you can't have charcoal, gas or wood where you live), there are lots of great smokers to choose from.
The Best Electric Smoker Review
Price is usually a good indicator of cooking quality when looking at electric smokers, and the best models can come with eye-popping price tags.
There are lots of simpler and cheaper electric smokers to choose from, though, and since they're relatively novice-proof to operate you can get good results from them. Since we've given you the bad news already, here's the good news: once you've made your purchase, electric units are much cheaper to operate than wood or charcoal-burning models.
Temperature Probes for Electric Smokers
One of the best features of many higher-end smokers is that they offer great heat control by using a temperature probe to maintain constant heat inside the unit. The ones that simply let you set a desired temperature with an external dial, but don't regulate it once set, won't produce the best food.
A remote meat thermometer which can be read via WiFi can be a smart additional investment, particularly for smokers that don't have great temperature control.
Ability to Add Wood Chips or Coals to Produce Smoke
Other considerations when choosing an electric smoker include how easy it is to add the small amount of wood chips or coals that actually produce the smoke; whether there's a water pan to help keep the food moist (the best smokers won't need it); and perhaps most importantly, the size of the unit.
Many inexpensive electric smokers will only hold two or three racks of meat. Larger ones which accommodate four to six racks could be worth the extra price, especially if you have a large family.
One more note: you can get near-professional home models for thousands of dollars. To keep things reasonable, the Your House Garden Team are sticking with the ones that the average meat lover can afford.
That's plenty of preliminary information. Let's get this baby fired up.
Masterbuilt is one of the most-popular companies in the lower-end electric smoker market, and the 20077515 is arguably their best value model.
It's not underpowered, boasting a full 800-watts of cooking power along with four chrome-coated racks and 730 square inches of cooking space.
There are some features on this Masterbuilt you wouldn't expect in a lower-priced electric smoker. There are RF remote controls (the small remote can be attached to your belt) along with an included meat temperature probe, allowing you better control over the cooking process even though the highest temperature the unit can reach is 275°. That probably won't give you a picture-perfect smoke ring or crust, but will do the job in producing nicely-smoked meat.
[youtube id="Wf3yCHnI5Is" width="750″ height="340″ position="left"]
Wood chips are loaded from the side and there's a full-sized front window so you watch cooking progress (although it does allow a little heat to escape), making this one of the more convenient units we've looked at.
There's also a water pan, which means additional moisture is needed for best results but also allows you to add flavoring elements in addition to the wood chips. A separate cold smoking attachment is available at an extra cost.
The power of the Masterbuilt 20077515 means the smoker heats up quickly and the remote let you maintain cooking temperatures well.
You're given a full range of customization options in different price ranges, so you can reduce the amount you pay by eliminating the front window or save money by moving the control panel from the top to the side.
For the price, however, this is still a lot of smoker for the money. (And the Masterbuilt 40-inch model 20075315 is even larger, at a higher price.)
Specifications for the Masterbuilt 20077515 30-Inch Outdoor Electric Meat Smoker:
Material: Steel/Chrome
Power: 800 watts
Capacity: 40 pounds (730 square inches)
Racks: 4, 12 x 14 inches each
Temperature range: 100°-275°
Temperature monitor: RF/digital display
Wheels: Rear
Size: 33 x 19 x 18 inches
Check Masterbuilt 20077515 Electric Smoker Price on Amazon
The Masterbuilt 20070411 is a very similar model that you might want to compare with the 20077515 we have reviewed.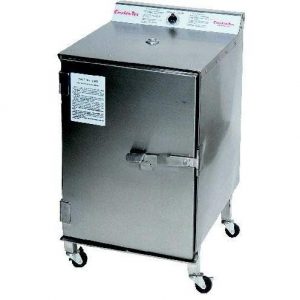 Smokin Tex makes higher-priced models than Masterbuilt, many with extra features some with greater capacity. This is one of the company's smaller units, but it's a quality electric smoker which should meet the needs of most families with room to spare.
Smokin' Tex manufactures its smokers from double-walled stainless steel (although made in China, not America), and while it isn't seemingly earthquake-proof like some commercial models, it's more than sturdy enough to last for quite a while.
Let's start with capacity. The Pro Series 1400 is smaller than the Masterbuilt but still has three steel racks plus a fish rack (and five positions inside the cook box to choose from), and can accommodate a total of 35 pounds of meat. It's not the biggest electric smoker on the market, but it should be more than sufficient for home use.
The construction of the box keeps the meat moist and the smoke inside, particularly with small vents and insulation that has been tested to 1000 degrees. That also means a much greater chance of a satisfying smoke ring and nice bark on the meat.
The one quarrel the review team has with the Pro 1400 is that it only has a standard internal temperature gauge which isn't 100% accurate, so you have to supply your own meat probe if you want to keep full track of your meat's cooking temperature.
For the price, however, we really shouldn't object. A more reasonable objection might be that the smoker's temperature range is less than one would hope, from 100-250 degrees.
Those who want more smoking space or features like the RF remote control should choose the Masterbuilt. For everyone else, the Pro Series 1400 is a great buy.
More info on the Smokin Tex Pro Series 1400:
Material: Stainless steel
Power: 700 watts
Capacity: 35 pounds (588 square inches)
Racks: 3, 14.5 x 14.5 inches each
Temperature range: 100°-250°
Temperature monitor: Monitors internal temperature
Wheels: Yes
Size: 29 x 21 x 18 inches
Weight: 70 pounds
Warranty: Two years, limited
Planning on throwing a huge party, and will need to feed a throng? Bradley is another well-known manufacturer with a large product line; their Jim Beam smoker may be their best-known offering.
This six-rack steel electric smoker (powder epoxy on the outside, stainless on the inside) has the largest capacity of their models, along with some very cool features.
There's a full 780 inches of cooking space in this Bradley, enough to let you easily smoke 50 pounds of meat at one time. There's also full digital control of the smoker, allowing you to set the temperature, time – and the amount of smoke you want produced in the smoke box.
The amount of smoke produced is determined by a separate "smoke generator" which automatically feeds a "bisquette" into a separate burner (and ejects the old one) as required. The bisquettes are what Bradley uses instead of charcoal or wood, and they work well. You won't find these features on other manufacturers' smokers.
To be honest, though, the temperature regulation isn't as accurate as the Smokin Tex, so you may want to use a meat probe when cooking.
The one potential issue with the Digital 6-Rack is that it could really use more power than what's produced by its 500-watt element, the same one the company uses in its four-rack model. That's an oversight Your House Garden hope they'll correct, as this is a relatively new product.
Just allow some extra time for heating up and cooking and you'll have enough nicely-cooked meats, fish and other foods for the entire neighborhood. This Bradley Digital is cheaper than the Smokin Tex Prod, which comes in at #3 on our list of the top 5 best electric smokers.
Diving deeper on the Bradley Digital 6-Rack Smoker:
Material: Steel
Power: 500 watts
Capacity: 50 pounds (780 square inches)
Racks: 6, 14.5 x 14.5 inches each
Temperature range: 100°-280°
Temperature monitor: Monitors internal temperature, also monitors time and smoke
Wheels: No
Size: 33 x 11 x 15 inches
Weight: 63 pounds
Warranty: One year
Most Cuisinart products are higher-end models, designed primarily for cooks who know what they're doing. The COS-330 goes against that grain, though; it's more of a bare-bones unit at an attractive price that's perfect for beginning or occasional smokers. It looks like a relatively-small floor safe on legs, with a small temperature gauge in the middle of the door, but its appearance hides a darned good electric smoker that's easy to operate.
The small footprint has a surprising 548 square inches of interior space that can hold more than 30 pounds of meat, with three easy-to-clean adjustable chrome racks to let you make the most of the smoking space. Trays for water (to add humidity) and wood chips are easily accessible at the bottom, and the temperature control is located on the AC cord. In this case, simple is an excellent quality.
The generous 1500-watt heating element lets the smoker reach an internal temperature as high as 400 degrees, and although the Cuisinart COS-330 isn't large or heavy enough to double as a boat anchor (like some smokers), it's pretty well built and should last through a number of summer seasons. Oh – and it does an excellent job smoking meat.
This Cuisinart is the best of the bunch in the budget smoker category, and it does almost as nice a job as our top-ranked models.
Specifications for the Cuisinart COS-330 Electric Smoker:
Material: Steel, metal, chrome
Power: 1500 watts
Capacity: 33 pounds (548 square inches)
Racks: 3, 14.5 x 14.5 inches each
Temperature range: 100°-400°
Temperature monitor: Monitors internal temperature
Wheels: No
Size: 37.5 x 22 x 19 inches
Weight: 59 pounds
Warranty: Three years, limited
Your House Garden finish up with a budget model that will do a decent job of smoking meat (albeit without the smoke ring and great crust).
The construction of the Char-Broil isn't anything to write home about, as you'd probably expect from its price. It's made from double-walled steel that isn't as durable as the top-rated units on our list of the top 5 best electric smokers, but it should hold up for at least a few years.
A bigger problem is that the door on our model didn't latch well; so you may need to install a magnetic strip or something else to hold it firmly shut.
There are three cast-iron racks giving you about 500 square inches of cooking space, and perhaps the best feature of this smoker is it's powerful 1500 watt heating element producing temperatures up to 350°.
There's a water pan and a front-mounted temperature gauge, but like most models in this price range we wouldn't recommend relying exclusively on the readout.
An outstanding electric smoker? Not really, but the food comes out very tasty and the price is certainly right.
Specifications for the Char-Broil Vertical Electric Smoker:
Material: Steel/cast iron racks
Power: 1500 watts
Capacity: 25 pounds (500 square inches)
Racks: 3
Temperature range: 100°-350°
Temperature monitor: External
Wheels: No
Size: 38 x 17 x 20 inches
Weight: 50 pounds
Warranty: One year
Bonus Smoker for those who want the best of the best, and have the money to pay for it!
When you get your first look at the 750-watt Smokette Elite, you might think it's a home safe.
This small but powerful smoker is made in America from welded, double-walled, heavy-gauge stainless steel with heavy-duty hardware (including caster wheels), and may very well live longer than you do.
The interior is just as impressive, with Spin-Glass insulation (tested up to 850 degrees) to keep the heat where it's supposed to be. The shelves are nickel-plated for durability, and even though there are only two of them they can hold a total of 20-25 pounds of meat, including briskets or full slabs of ribs.
At the bottom of the cook box there's a stainless steel tray which holds the wood chips and is easily accessible.
This Cookshack model can smoke at temperatures between 100 and 300 degrees, and it comes with an LED control panel which not only shows the cooking temperature inside the box, but also displays the actual temperature of the meat thanks to a commercial-quality probe that's simply inserted into whatever you're cooking. That's the best way to ensure superior results when using an electric smoker.
The fish and bacon that comes from the Smokette Elite are terrific, and you can purchase optional hooks to make really good jerky. But the real measure of a smoker is meat.
You'll find that the ribs, brisket, pulled pork and other traditional meats made in this unit are almost as good as the ones you'll get from babysitting a charcoal smoker all day (or all night) monitoring the fuel and temperature.
With the Smokette Elite you don't have to be an expert to turn out great food, thanks to the convenience of electricity and the temperature monitoring provided.
This company is very well-known for its commercial smokers and it offers a number of models for home use, with several costing more than double the price of the Smokette Elite.
Those might be worth exploring if you can afford them and need a bigger unit. If 20-25 pounds of meat is more than enough for your family and guests, though, you'll find the Elite a terrific purchase.
Facts and figures for the Cookshack Smokette Elite Electric BBQ Smoker:
Material: Stainless steel, Spin-Glass insulation
Power: 750 watts
Capacity: 20-25 pounds (504 square inches)
Racks: 2, 18 x 14 inches each
Temperature range: 100°-300°
Temperature monitor: Digital, inside temperature and meat temperature with included probe
Wheels: Yes
Size: 32 x 20 x 18 inches
Weight: 93 pounds
Warranty: Two years, limited
Check Cookshack Smokette Elite Electric BBQ Smoker Price on Amazon
Those smoked ribs will go perfectly with some fries – and of course those fries will be cooked in an air fryer.  Follow the link to check out Your House Garden's review of the Top 5 Best air fryers. If you're wondering where to put your smoker or are thinking of a full outdoor cooking station, perhaps some ideas about home remodeling will inspire you.