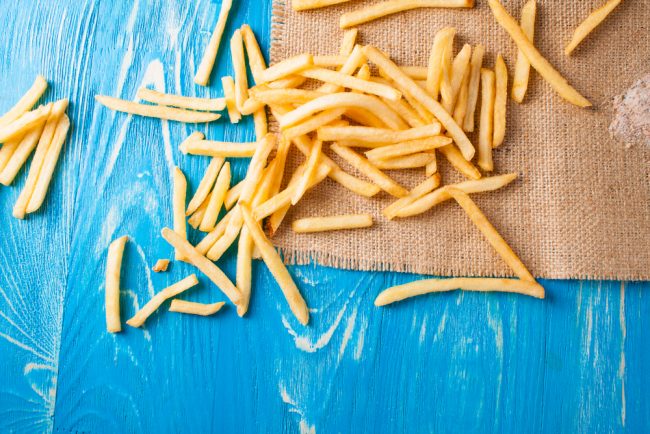 There are lots of kitchen appliances which claim they produce the same results as the "real thing" without actually delivering – the best air fryers seem to be an exception.
The Best Air Fryer – How Close Do They Get to Deep Fried Food?
Indoor grills and cheap electric pasta makers are two that fall into that category; most indoor grills are no better than a broiler, and budget pasta machines usually just make mediocre noodles and a big mess.
That's what came to mind when Your House Garden first heard about air fryers a few years ago. The concept of frying food without the fat and cholesterol inherent in deep frying is obviously appealing. We couldn't shake the fear, though, that it would taste terrible. After all, how can you fry without the oil?
We were wrong, of course, but let's be honest. Most air-fried foods don't taste quite the same as deep-fried ones because they don't have the same telltale "crunch" when you bite into them. There's no way that fast-moving hot air can fully replicate the process of hot oil steaming food from the inside out, to keep moisture in while creating that wonderful crispy exterior – if you try to do it in an air fryer with an extra layer of dry batter the air will simply blow it off, and extra wet batter will make the food come out soggy. If you're cooking already-frozen items like store-bought bags of French fries, though, the residual oil from the precook will make the final results pretty close to what you'd want.
Air Fryer – Deep Fried Taste Without the Oil
Despite that caveat, our top 5 best air fryers come quite close to deep-fried taste. Food stays moist, and a lighter but still crispy exterior makes chicken, fries, onion rings and other traditionally fried foods delicious.
Some, like wings, come out really great. And it's done with as much as 80% less fat (most models still require that you add a tablespoon of fat or so to the appliance) – while being much more versatile. All you can do with a deep fryer is fry food, but most air fryers also let you roast or bake meat (or even cakes!) with very good results.
Added Benefits of Air Fried Food!
There are also the added benefits of safety and cleanup. A closed machine pumping hot air is naturally safer than a vat full of boiling oil, and air fryers won't splatter the kitchen with oil or require you to find a way to dump used gallons of the stuff.
The bottom line, though, is health. Even though we all love fried food, we know how bad it is for us. An air fryer lets you enjoy all you want without worrying about what it's doing to your body. Skin or food that might be a bit less crispy is a small tradeoff for a benefit like that.
Ranking Factors for the Best Air Fryers
The most important factors in ranking the top 5 best air fryers include:
– the maximum temperature they can reach
– the effectiveness of their air flow
– the amount of oil you have to use in them
– the size of their cooking basket (many are quite small).
– The Your House Garden review team also considers the amount of control the fryer gives you over the process
– and needless to say, the quality of the food it produces.
Let's get cooking – with hot air!
It's not often that we agree with just about every other reviewer about the best product in a category. It's virtually unanimous, though – the latest Philips AirFryer is the premier model on the market.
It should be; Philips was the first to launch this once-revolutionary product about five years ago and more than five million of them have been sold to date, so the company has had a long time to perfect its products. And the HD9230 is just about perfect.
The review team wish it had a little bigger basket, but that's our only complaint.
The key to this air fryer's performance is the Philips "Rapid Air" technology which moves the hot air around the interior at a very rapid speed, assisted by an unusual design at the bottom of the chamber that ensures the heat is distributed evenly.
As a result, the "fry" on the food prepared in this model is more thorough and predictable than in any of its competitors. Only a tablespoon of oil (or less) is required for air frying, baking or roasting.
The HD9230 is a big step up from its predecessor, the HD9220, which had manual temperature and time control dials. This appliance has a fully digital touchscreen control panel which lets you easily set temperatures as high as 390° and cooking times up to an hour, along with an automatic shutoff to prevent burned food.
The other important upgrade in the latest Philips model is that there's now a double-layer rack included in the otherwise-small cooking basket; it still only holds 1.8 pounds of food, but you can theoretically fit twice as much into the HD9230 as you could in the HD9220 because of that second layer.
Everything is dishwasher safe, and the construction is high-quality without all of the plastic you usually see in air fryers.
[youtube id="zAbKblrKD_U" width="750″ height="340″ position="left"]
You didn't think we'd forget the food, did you? It's excellent. There's more crunch than you'd expect to see from an air fryer, the insides of French fries, chicken and fish come out moist and delicious, and even broiled and roasted meat is quite tasty and well-cooked. The baked cakes weren't bad, either.
It's not as fast as a deep fryer, and as we've mentioned, foods like freshly-cut fries aren't quite the same as when they're deep fried. They're a whole lot better than when cooked in an oven, however, and they're better than in any other air fryer. Just be ready to cook in two batches if you have a large family, because of the smaller-sized basket. The Your House Garden review team think the price of the HD9230 is well worth it.
Facts and figures for the Philips Digital AirFryer HD9230/26:
Capacity: 1.8 pounds, two internal racks
Maximum temperature: 390°
Timer: One hour
Controls: Digital touchscreen
Amount of oil required: One tablespoon
Functions: Fry, roast, bake, grill
Power: 1425 watts
Size: 15 x 15 x 15 inches
Weight: 15 pounds
Warranty: One year
The ActiFry's food doesn't come out as crunchy or quite as delicious as the HD9230's. However, it's still tasty, and the price tag for this appliance is usually lower even though it has a bigger cooking basket. That's a tradeoff many would be willing to make.
There are some other reasons that this very good T-fal air fryer still doesn't seriously contend for the top spot on our list of the top 5 best air fryers. Your control over the cooking process is limited, since all you can do is turn it on and watch the countdown timer – and you have to watch the food as well (easy to do thanks to a steam-free see-through lid) because there's no automatic shutoff when the cooking is done.
One other convenient feature of the ActiFry can sometimes be a negative as well; a stirring paddle continuously moves the food around for even oil distribution and cooking, but if you have large items in the basket the paddle can get stuck on them. The fryer is also rather noisy and not as solid as the HD9230 but cleans up easily.
Having said all of that, Your House Garden still liked this unit as a lower-priced alternative to the Philips. The 2.2 pound capacity can handle a smaller family's food in one batch, items like wings and vegetables cook extremely well, and French fries come out tasty (but a little dry). For convenience we give the ActiFry an A-, and food quality it gets a solid B. With so few high-quality air fryers on the market, those are very good grades.
Details on the T-fal FZ7002 ActiFry Multi-Cooker:
Capacity: 2.2 pounds
Maximum temperature: 338°
Timer: Not controllable
Controls: On/off button
Amount of oil required: One tablespoon
Functions: Fry
Power: 1450 watts
Size: 16 x 13 x 9 inches
Weight: 9 pounds
Warranty: One year, limited
This is another air fryer which is in the tier below the Philips model, and it's priced around the same level as the T-fal. We question the durability of the LB200 slightly more than the T-fal and its air blower is a little less powerful, which is why it slipped in just underneath the ActiFry on our list.
The full control provided by the LB200's digital control panel, though, might make it a better choice for many cooks.
The name of this product would make you think that you can't use any oil at all with it, but that's a bit misleading; just like our other reviewed air fryers, you can use a tablespoon of oil or so to improve the food's outside crispiness. The Living Basix uses a slightly different cooking method, adding infrared heating to the standard convection approach to circulating hot air.
The results, however, are pretty much the same. Pre-fried foods from the store come out close to perfect, while fresh foods are cooked well but don't have quite the same crunch as if they'd been prepared in a deep fryer. Food capacity is about equal, around two pounds, and the unit can grill or bake with good results.
This is not an air fryer that can compete with the Philips, but none of them can. It's a good alternate choice at a much lower price.
More info on the Living Basix LB200 Digital Oil-Free Fryer:
Capacity: 2 pounds
Maximum temperature: 400°
Timer: 30 minutes
Controls: Digital touchscreen
Amount of oil required: Not required but permitted
Functions: Fry, grill, bake
Power: 1400 watts
Size: 11 x 13 x 12 inches
Weight: 13 pounds
Warranty: One year
Check Living Basix LB200 Digital Oil-Free Fryer Price on Amazon
The Kalorik is mostly plastic but it's sturdier than our final reviewed product. Even though the manufacturer touts its ability to fry, roast, grill and bake, Your House Garden wouldn't choose it for fresh food preparation because it's not as powerful as our top-ranked models. But to "fry" frozen food like French fries and fish sticks it's a good choice for the price range, and if you want to try out the roasting function to make steak and fries, there's an inside rack that lets you put the meat on the top and the fries on the bottom.
The controls on the Kalorik are dials rather than a digital touchpad, but you can still set the timer up to 30 minutes and cook at temperatures as high as 400°. The basket is a bit smaller than the ones you find on most air fryers, but you can still prepare about two pounds of food or a little less on one go. As with the Living Basix model no oil is required for cooking, although you'll probably find that you get better outside crispness by adding a bit.
Dedicated cooks won't find this air fryer an indispensable kitchen tool, but it's great for making fries or onion rings straight from the freezer.
Specifications for the Kalorik FT 42139BK Smart Air Fryer:
Capacity: 3.2 quarts
Maximum temperature: 400°
Timer: 30 minutes
Controls: Dials
Amount of oil required: Not required but permitted
Functions: Fry, bake, grill, roast
Power: 1400 watts
Size: 13.6 x 11.5 x 13.5 inches
Weight:10 pounds
Warranty: One year, limited
The Your House Garden review team considers the fourth and fifth entries on our top 5 best air fryer list to be interchangeable. They each cost about the same, each are best for frozen food, each has dials instead of digital controls, and each is designed to work without any added oil.
In fact, the specs for the two air fryers are almost identical: 1400 watts, the ability to roast and bake as well as fry, a 30-minute timer, and a convenient front handle. In fact, it looks almost like two different designers were given the same specs and told to create a fryer; the two products would appear a bit different – but not by much. We only rank the Avalon Bay below the Kalorik because it's not quite as sturdy.
The fried food that comes out of each model is basically equal in quality – we wouldn't choose the AB-Airfryer or Kalorik over an oven for baking or over a deep fryer for homemade fried food, but they're a whole lot better than the oven for preparing frozen appetizers or fries.
Looking deeper at the Avalon Bay AB-Airfryer100B:
Capacity: 4 quarts
Maximum temperature: 400°
Timer: 30 minutes
Controls: Dials
Amount of oil required: Not required but permitted
Functions: Fry, Roast, Bake
Power: 1400 watts
Size: 13 x 11 x 13 inches
Weight: 11 pounds
Warranty: One year, limited
* Unfortunately it looks like this model Kalorik might not be available right now, so please consider another air fryer for now.
This Kalorik model FT 37999SS is very similar to the Kalorik FT 42139BK Smart Air Fryer which has replaced it at #4.
Dedicated cooks won't find this air fryer anything special, but it's great for a bag of fries or onion rings straight from the freezer.
Specifications for the Kalorik Convection Air Fryer:
Capacity: 4.2 quarts
Maximum temperature: 400°
Timer: 60 minutes
Controls: Dials
Amount of oil required: Not required but permitted
Functions: Fry
Power: 1230 watts
Size: 12 x 12 x 15 inches
Weight: 11 pounds
Warranty: One year, limited
If you are in kitchen item shopping mode why not consider replacing that outdated gas range – if so be sure to read our review of the top 5 best gas ranges.