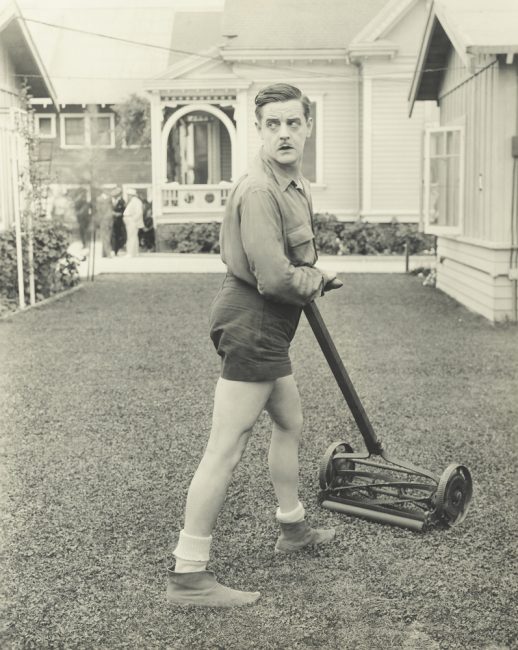 "What's a reel mower?" we hear some of you ask. You may know it as a push mower – and no, they're not just props in movies or TV flashbacks.
There are those who have always sworn by their old-fashioned reel mower, but many more homeowners have been convinced to switch away from a power mower after trying a new-era push mower, designed to be easier to push and more effective at cutting a lawn.
Why Use a Reel or Push Mower?
There are good reasons to switch (or switch back) to a push mower.
The obvious ones first: the best reel mower is far cheaper to buy, operate and maintain than a power mower, whether you compare it to a gas-powered, battery-powered or electric model of comparable quality – and especially when you compare it to a robot lawn mower.
Other benefits are almost as obvious; a mower that relies on "human power" is more environmentally-friendly than any other type of lawnmower (the EPA says a power mower pumps out as many hydrocarbons per hour as 11 new cars), it doesn't create any noise pollution, pushing a hand mower is better aerobic exercise than wheeling a power motor around the yard, and the blades on reel mowers won't break or shatter when unexpectedly hitting a rock because they're not moving at high speed.
Many gardeners who have worked in the garden say that hand mowing is also better for your yard because a well-built roll mower cuts each blade precisely and cleanly and then seals it, keeping the tips greener and the grass healthier. In fact, one member of the Your House Garden team grew up next to a gardener, who wouldn't touch his showcase lawn with any electric or gas-powered tool.
Reel mowers aren't suitable for all homeowners, however. Most are not able to properly cut high grass or thick weeds so you have to mow more often with a hand model, particularly in the spring when grass grows quickly.
They're tougher to use on lawns with lots of steep grades (but on the other hand, they won't tip over on hills). They don't do a great job cutting lawn borders because the wheels on the outside of the mower prevent the blades from hitting grass growing along fences or other obstacles.  If you don't want to kneel down and cut the edges with scissors you could always cheat and get a string trimmer (yes, we do appreciate the irony here). And while some reel mowers have grass collectors for those who prefer to pick up their clippings, those collectors don't work as well as those on power mowers.
Finally, a reel model will require you to spend 25-50% more time mowing your lawn than a power mower – depending on your outlook, that could be either a pro or a con. But when you realize that you can get a top-end push mower for a couple of hundred dollars, and a good-quality one for under a hundred bucks – that extra mowing time could be a trade-off you'd be thrilled to make.
Another Reason to Buy A Push Mower – Teaching Modern Day Children Responsibility
Just as we were about to publish this article a great discussion broke out among the team.  One team member said that when he was younger it was his job to mow the lawn with the families push mower – his mother refused to buy an electric/gas lawn mower.  She said that as a single parent it was her responsibility to teach him the satisfaction that comes from working hard to complete a job – and an electric/gas powered mower would take that away from him.  We will leave the parenting to you, but thought this was an interesting anecdote.
Choosing the Best Reel Mower for You?
The quality of a mower's blades will, naturally, play the largest role in determining how good your lawn looks after using a push mower. The best push models will have heat-treated blades that deliver a cut so clean it looks like a pair of scissors was used to trim each blade of grass (that may be a bit of an exaggeration, but not a huge one). There's another hidden factor to consider, though; a heavier reel mower will be less likely to bump up and down or shift around on uneven ground, so you'll wind up with a more even cut across your entire lawn.
There's a catch-22, however. One of the attributes most people look for in a push mower is that it's lightweight and easy to push, so choosing a model that is a breeze to wheel around your lawn may be more important to you than buying a heavier one that won't jiggle as you push it.
In doing all of our Your House Garden top 5 reviews, we've realized that personal preference often plays as big a role as specifications and price in making the "right" choice. The weight of your push mower definitely falls into that category. A related factor involves the construction of the mower, since details like ball-bearing wheels will make the mower easier to push, and some of the most advanced (and most expensive) choices will have new technologies that make an amazing difference in ease of use.
Different mowers allow for different height adjustments, and the more, the merrier. Ideally, you'd want your reel mower to be able to hit the magic "3-inch" height so many professionals talk about, but as long as it can come close while also letting you cut closer to the ground when desired, you'll be just fine. The width of the cutting deck is also worth considering since the wider the cut, the less time it will take you to do the work.
One final note before we get to our best reel mower top 5 list: you'll see a few gas- or battery-powered push mowers on the market, but we didn't include them in our rankings. Some are the huge, expensive types you see on golf courses, while smaller models may be slightly easier to push but don't do a noticeably better job on your lawn and cost a huge amount more than even the best human-powered mowers.
Here goes – let's get choppin'.
This impressive push mower is the most expensive option in the Your House Garden rankings but even after buying it with two one-hundred dollar bills, you'll still get some change back – something you can't say for any of the top power mowers available. You may never have heard of Fiskars, but they're a Finnish company that specializes in high-end scissors and they've taken the same technical approach in designing a lawnmower.
The features that add to the price tag of this Fiskars mower may sound gimmicky, but they're really not. InertiaDrive reel technology uses a cutting reel with a larger-than-usual diameter, and heavier-than-normal blades, to give the Staysharp Max more power for handling thick grass and small twigs with ease. Fiskars says this reel mower has twice the power as competitors; we can't put numbers to it, but you can definitely tell the difference.
There's more. Proprietary VersaCut technology lets the blades cut all types of grass equally well (not as easy as it sounds) and lessens internal friction, and the Fiskars StaySharp blades are precision-ground, hardened steel to last for years without sharpening. The mix of these very real steps forward makes the Staysharp Max easier to push than any other reel mower we've looked at.
The positives keep coming: the height of the Fiskar is adjustable from one to four inches, the looped handle makes the mower easier to push, the wheels are on the inside of the mower making edging tasks possible, there's a wide 18-inch cutting deck, the discharge chute throws clippings forward instead of back at you – we'd keep going, but that hits most of the highlights. This is heavier than most, but it's the Cadillac of push mowers.
The Your House Garden team can't say enough good things about the Fiskars StaySharp Max. It's an exceptional reel mower, and even though it's expensive for a push model it's still a bargain compared to powered mowers.
Facts and figures on the Fiskars Staysharp Max Reel Mower:
Weight: 52 pounds
Cutting width: 18 inches
Height adjustment: One-touch, 1-4 inches
Warranty: Three years, limited
The Scotts Classic is probably the type of reel mower you picture. It's built much more simply than the Fiskars model we've reviewed and it comes it at nearly half the price. However, that doesn't mean its performance is lacking in any important way.
The 2000-20's first great attribute is represented in its name: a 20-inch cutting width, which is impressive even though the dual-tracking radial wheels are in the more traditional position outside the mower, rather than inside as with the Staysharp Max. (The outside wheel position makes it harder to edge the lawn.) A wider cutting width means that fewer passes are required to cut a lawn, and the Scotts Classic isn't more difficult to push even with that wide deck.
There are five heat-tempered steel blades in a ball-bearing assembly, all inclined at different angles to reduce friction and improve the quality of their cut; the 2000-20 does a great job when it comes to consistency on any grass type. Also terrific is the mower's easy height-adjustment capability with nine settings ranging between one and three inches, plus the fact that it's about 20 pounds lighter than the Staysharp Max.
You won't be able to power through very tall grass or large twigs with the Scotts 2000-20, but that's about its only limitation. The review team found that in normal or thick grass, this reel mower does an outstanding job for a very good price.
More info on the Scotts 2000-20 Classic Push Reel Lawn Mower:
Weight: 34 pounds
Cutting width: 20 inches
Height adjustment: Quick-snap, nine settings, 1-3 inches
Warranty: Two years
Check Scotts 2000-20 Classic Push Reel Lawn Mower Price on Amazon
The cutting deck on the 415-16 is quite a bit narrower than on the Scotts model; as you can tell from its name, it's 16 inches wide and not 20. There are fewer height adjustments, with a maximum height of 2½ inches rather than three. There's a cushioned T-shaped handle instead of a looped one.
However, this Great States reel mower is durable, with plenty of power to glide through normal-length grass with ease. Like the Scotts, it's a moderate-weight model with enough heft to stay true to mostly-level ground without bumping or drifting, and the 10-inch wheels in ball-bearing assemblies roll smoothly. The five blades are made from tempered steel, angled to handle most lawns and deliver a very satisfactory cut.
The team didn't like the Great States 415-16's as much as the Scotts 2000-20, because of its narrower cutting deck and fewer height adjustments. But the two models were pretty close in performance and all other respects – and the Great States reel mower is less expensive. It came in at #3 on the Your House Garden list of the top 5 best reel mowers but by a very small margin.
Specifications for the Great States 415-16 Push Reel Lawn Mower:
Weight: 26 pounds
Cutting width: 16 inches
Height adjustment: Three settings, 1- 2½ inches
Warranty: One year
Check Great States 415-16 Push Reel Lawn Mower Price on Amazon
We wanted to include several reel mowers with grass catcher attachments on this list, and the review team has chosen the latest Remington model as our first pick. Priced around the same as the Great States mower, the RM3100 has an 18-inch cutting deck, five steel blades, an adjustable handle, and unlike many competitors can be pulled backward without engaging the cutting mechanism.
You can adjust the height of this Remington between ¾ of an inch and 2½ inches, not as high as we'd like and requiring you to move two levers simultaneously to make changes, although it does allow you to set the wheels at two different heights for use on slopes. It won't be a beast in tall or thick grass or plow through a lawn full of twigs. But it cuts effectively and moves nicely, and the grass-catching collection bag that fits snugly onto the back of the mower is a plus for anyone who doesn't want to leave clippings on the ground to mulch.
The Remington RM3100 doesn't have all of the features we'd ideally like to see on a reel mower, but that shouldn't matter to those who want a grass catcher. It's a very good push mower and the catching attachment should clinch the deal.
Specifications for the Remington RM3100 Reel Push Mower:
Weight: 28 pounds
Cutting width: 16 inches
Height adjustment: Nine settings, ¾ – 2½ inches
Warranty: Two years
We've always loved Greenworks products, and the combination of a 20-inch cutting width and an attachable grass catcher made it impossible to leave their 25072 out of the Your House Garden rankings. What kept it from a higher rating, quite honestly, was that the quality of the cut wasn't quite as good as with our other reviewed reel mowers, and it was more likely to have problems with small twigs.
But the difference was minor, and the nine height adjustments (1½ to 2¾ inches), the five steel blades, its ease of pushing, the grass catcher and a very generous warranty were all arguments in favor of including this Greenworks model. They also offer models with 16- and 18-inch decks for even lower prices.
The Greenworks 25072 isn't everything we'd want in our ideal reel mower, but it's a solid push model with a grass catcher and is an option well worth considering at a moderate price.
Digging deeper on the Greenworks 25072 Push Reel Lawn Mower:
Weight: 32 pounds
Cutting width: 20 inches
Height adjustment: Nine settings, 1½ – 2¾  inches
Warranty: Four years
The Your House Garden review team hopes you enjoyed this trip back to the future.  If you do decide to invest in a reel mower then you might also need to consider buying a home soda making machine, because in summer it might be thirsty work!