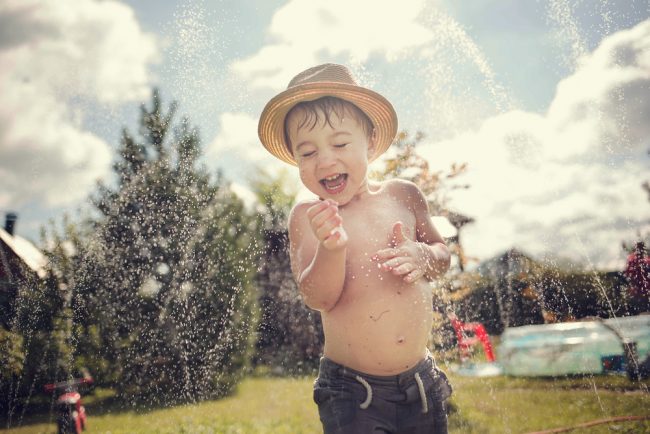 The best water sprinkler? It has a strong and constant spray, it oscillates from side to side with a high spray, and it stays on all summer long.
Oh – wait. That's the best water sprinkler for kids. After all, kids aren't picky; if they can run through (or away from) the water, get wet and have fun, it's probably the best sprinkler ever.
A lot more goes into choosing a sprinkler for your lawn.
Why Most Sprinklers Don't Do Much Good?
Here's the problem. Spraying water into the air is an extremely inefficient way to get moisture down to the roots of grass or plants; a lot of it lands in the wrong places or evaporates.
Even worse, people who water their lawns often but only briefly can actually do damage to plants and grass because shallow watering only hits the topsoil. That prevents roots from growing deeply into the ground where they need to be for a healthy and long life. Sprinklers also, as you'd probably guess, waste a lot of water.
The best way to water is with an irrigation system, or at the very least, soaker hoses. That's not easy or cost-effective for many homeowners, however – so they rely on what gardening experts call "hose-end" sprinklers.
When choosing one, it's crucial to buy a sprinkler which will water an entire area thoroughly and evenly when left to do its work over a long period of time. Ideally, it will also be adjustable so the water pattern can match the target area.
Different Types of Sprinklers
Impact Sprinklers Need Good Water Pressure
The most powerful lawn sprinklers are the ones you often see on commercial properties, with water pressure moving the unit's rotating arms in a circle to produce strong, pulsating sprays that soak deeply into the ground (but can also damage tender or small plants).
These so-called "impact" sprinklers can be adjusted to rotate in angles covering 0-360° (depending on model) so you can select exactly where you want the water to hit. They're the "best" type of sprinkler for your lawn unless you live in an area with low water pressure because without enough pressure the arms won't move.
Rotary Sprinklers are Similar to Impact Sprinklers But Are Not as Sensitive to Water Pressure
Smaller "rotary" sprinklers are similar but aren't as sensitive to water pressure so they usually won't get stuck in one position. Most can't be adjusted to cover specific areas, but are a good cheaper alternative for consistent watering.
Oscillating Sprinklers – Think Back to Your Childhood
"Oscillating" sprinklers are probably what you think of if you reach back to your childhood memories; they have a long tube with holes that roll back and forth, producing high sprays of water which move from one side to the other and cover a rectangular area.
The high sprays are an inefficient way of delivering water to your lawn, but they can do a decent job if left in one spot for a long period of time – and kids love running through them.
Stationary Sprinklers are a Cheaper Alternative
The final common alternatives are "stationary" sprinklers which, as their name suggests, spray water over a narrowly-defined area.
They're cheap, are available in many different sizes and shapes, and are good for hitting specific spots. They won't do much good if you have a big lawn, though.
Traveling Sprinklers are Great for Larger Properties
We'll briefly mention one other category: "traveling" sprinklers are complicated gadgets that, powered by water pressure, roll on wheels along the length of a hose. They're really only useful for large properties, but we'll include one in our rankings for those who need to water the back 40.
How Do You Choose the Best Sprinkler?
The real key to picking the right sprinkler for your lawn is matching the area that a model will cover with the area you have to water – it's as simple as that. You don't want to be watering large patches of driveway or the side of your house, nor do you want powerful jets of water destroying the delicate flower garden you've spent hours tending. You'll also have to consider your overall lawn size, and the water pressure coming into your property.
Finally, you'll want to ensure that the sprinkler you choose produces an even distribution of water throughout its intended path. How will you know? The best way is to rely on the Your House Garden best sprinkler review top 5 list – don't forget we are listing the best sprinklers for your lawn and not your kids!
Tell the truth. You expected to see an impulse sprinkler at the top of this list, didn't you? We expected to put one here, but the ZoomMaxx is just too good to be ranked any lower.
Unlike most oscillating sprinkler models, this one is fully adjustable so you can choose the amount of water pressure reaching the sprinkler (to control the power of the water coming out), as well as the width, length, angle, and direction of the spray.
You can manually swivel the head to make minor directional adjustments as well. That makes this Gardena model the most controllable and customizable of all the sprinklers we've reviewed – and potentially just as powerful as an impulse model.
There are two rows of eight rubber nozzles on the surprisingly small head, but they pack a punch when you set the pressure to full blast. And just as importantly, the ZoomMaxx is the most consistent of all the sprinklers on our list, delivering just about equal amounts of water throughout the target area you've selected without creating huge puddles in one area and missing another.
Gardena says that the oscillating action is driven by a "sealed turbo gear unit" and while we're not quite what that means, it works extremely well if you have sufficient water pressure at your home.
[youtube id="5ae-8nLwNOc" width="750″ height="340″ position="left"]
When you figure out all of the possible adjustments, you're able to shoot water as far as 50 feet away, covering anything from a small 100 square foot area up to a space of several thousand square feet with a constant, strong spray. The Your House Garden team was also very impressed with the solid construction of the ZoomMaxx as well as the sturdy anchor provided by the weighted base.
The only negative is that you need a specialized Gardena snap-on connector (which also works with Melnor products) to attach the sprinkler to your garden hose, but that's picking nits.
The Gardena ZoomMaxx is more expensive than a sprinkler you'd pick up at a garden store, and pricier than the other products on our list of the top 5 best sprinklers.
It's well worth it, though, since you can tailor this oscillating sprinkler to just about any area of lawn, evenly dousing it with a welcome heavy spray of water.
Facts and figures on the Gardena ZoomMaxx Oscillating Sprinkler On Weighted Sled Base:
Type: Oscillating Sprinkler
Range: Up to 50 feet
Adjustable: Multiple adjustments
Other features: Integrated mechanical timer
Connector: Gardena snap-on
Size: 10 x 3 x 10 inches
Weight: 2.5 pounds
Warranty: One year, limited
Check Gardena ZoomMaxx Oscillating Sprinkler Price on Amazon
Here's our top impulse sprinkler (circular is another way manufacturers describe impulse models), and it's definitely as heavy-duty as advertised with a die-case metal sled base and brass-and-zinc sprinkler head.
This Gilmour differs from most high-level impulse sprinklers for an important reason: it's a fully-contained model that connects to a garden hose, while most impulse models on the market are simply sprinkler heads that have to be connected to threaded pipe systems. This one, by comparison, is no more difficult to set up than an oscillating sprinkler.
You pay a price for that simplicity, however, and in this case, the price is a higher cost than an impulse head and slightly lesser performance.
More specifically, you may find there is somewhat-uneven water distribution over longer distances. It's not a deal-breaker, though, since you get powerful streams of water projected over a 40-foot distance and can cover thousands of square feet with optimal water pressure.
There are controls that allow you to adjust the distance of the spray, the spray diffusion and the degree of rotation from zero to 360°.
This powerful and sturdy Gilmour Circular Sprinkler isn't a good fit for smaller yards, but it will blast larger ones with lots of water and is fully adjustable for the size of your lawn.
If you don't want to hassle with piping and just want an impulse sprinkler that's effective and easy to hook up, the Your House Garden review team recommends this one.
More details on the Gilmour Heavy-Duty Adjustable Circular Sprinkler:
Type: Impulse
Range: Up to 40 feet
Adjustable: Multiple adjustments
Connector: Standard
Size: 12 x 8 x 11 inches
Weight: 1.8 pounds
Warranty: Lifetime
Check Gilmour Heavy-Duty Adjustable Circular Sprinkler Price on Amazon
Don't let the plastic casing of this inexpensive rotating sprinkler fool you. The gear-driven head is reliable, the sprinkler is almost silent when operating, and the spray is well-controlled. There are also weights in the base that keep the entire unit in place. Because the Irrigator Pro shoots the water out horizontally there are no huge sprays for kids to run through, but there's very little water blown around by the wind – and the watering is unusually consistent over the covered area.
That area is selectable, too, from a 30° wedge to a full circle, with a range of 30-40 feet. That makes this sprinkler ideal for those who have a small or irregularly-shaped area to water since you can set the head by adjusting three sliders that control angle and distance. And the baffle deflector also means the Irrigator Pro behaves itself well, watering where you want it to without washing your home's siding or tearing up your flowers.
As long as you have good water pressure, you can get powerful streams from this model while directing them exactly where they should go.
The Irrigator Pro Whisper Quiet is a terrific low-priced option, unusually adjustable for a rotating sprinkler, unusually even in its watering, and unusually quiet.
Digging deeper on the Irrigator Pro 525054 Whisper Quiet On Sled Base:
Type: Rotating
Range: Up to 40 feet
Adjustable: Multiple adjustments
Connector: Standard
Size: 10 x 3 x 10 inches
Weight: 1 pound
Warranty: One year
Check Irrigator Pro 525054 Whisper Quiet On Sled Base Price on Amazon
The Green Thumb is our budget selection. Although it's mostly plastic (with a curved aluminum spray tube), it should hold up through at least several summers while it waters large rectangular areas of your lawn and gives the kids some great sprays to run through or dodge as it rolls back and forth.
The Your House Garden review team liked that fact that the 17 jets don't get plugged with gunk easily (unlike most oscillating models), as well as the somewhat-clunky "dial-a-rain" knob that lets you adjust the coverage area of the sprinkler more effectively than you'd expect on a cheap model.
There's nothing exciting about the Green Thumb Oscillating Sprinkler; it's the kind of sprinkler your parents probably had when you were a kid, but it will do an effective job of watering large areas at a low price – and your kids will love it as much as you did.
Specifications for the Green Thumb GT50910 Oscillating Sprinkler:
Type: Oscillating sprinkler
Range: Up to 50 feet
Adjustable: Coverage area
Connector: Standard
Size: 17 x 3 x 7 inches
Weight: 1 pound
Warranty: N/A
Check Green Thumb GT50910 Oscillating Sprinkler Price on Amazon
We mentioned at the start that most people don't have enough lawn to find a traveling sprinkler useful, but we felt we should include at least one on Your House Garden's list of the top 5 best sprinklers.
The Nelson Raintrain is our choice because it's inexpensive (for a traveling sprinkler), it's rugged thanks to a powder-coated cast-iron body, and it can slowly move along a hose as long as 200 feet to cover as much as 13,500 square feet of lawn.
The aluminum spray arms shoot water as far as 55 feet, there are high and low speeds to choose from (to control water saturation), and there's an automatic shut-off to save water once the sprinkler reaches the end of your hose.
The Raintrain traveling sprinkler isn't for everyone, but it's a wonderful option if you have a very large lawn without an in-ground sprinkler system. It is extremely effective, highly adjustable, and even fun to watch.
A closer look at the Nelson 1865 Raintrain Traveling Sprinkler:
Type: Traveling
Range: Up to 55 feet and travels up to 200 feet
Adjustable: Multiple adjustments
Connector: Standard
Size: 20 x 1 x 9 inches
Weight: 18 pounds
Warranty: Two years, limited
Check Nelson 1865 Raintrain Traveling Sprinkler Price on Amazon
We hope you enjoyed Your House Garden's best sprinkler review top 5 list.  Now that you will have all this free time on your hands all you will have to do is sit back and relax – unless of course your backyard is plagued by swarms of hungry insects! If that is the case then you had better read our best bug zapper review!