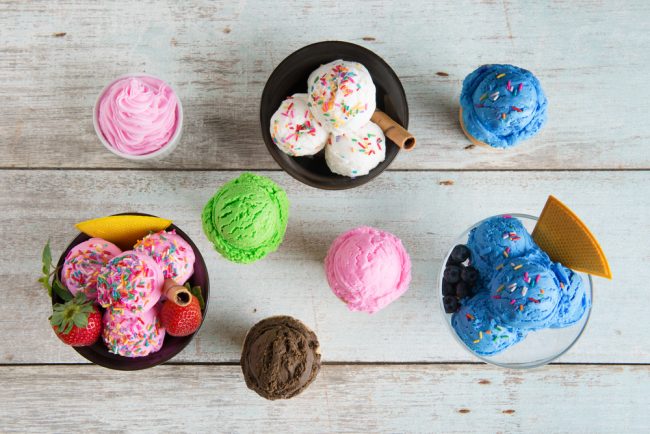 As Your House Garden write this, it's 97 degrees out. On days like this, two thoughts typically come to mind: "Where's the nearest swimming pool?" and "I want some ice cream!"
Not everyone has immediate access to a swimming pool. The relief of a cold, delicious bowl of ice cream, though, can be just minutes away when you have an ice cream maker within arm's reach in your kitchen.
Today's models don't necessarily bring with them the guilt of downing a fat-and-calorie rich forbidden treat; many also excel at making frozen yogurt, sorbet, sherbet and other healthy desserts, perfect not just for making healthy treats but also ideal for those who are lactose-intolerant or on a gluten-free diet. If you've just come back from a visit to an upscale gelateria (or a trip to Italy) and have become a convert, you can make perfect gelato, too. (We should mention that a number of machines make great frozen drinks, if you're so inclined.)
There's one other great reason to have an ice cream maker in your kitchen: it's a great solution when the kids are whining "It's so hot and there's nothing to do!" A fun family session with the ice cream machine will end the complaints and make everyone happy.
The Different Types of Ice Cream Makers
Those who plan ahead may be satisfied with less-expensive canister ice cream makers, which require you to put a gel-containing bowl into the freezer for a day to get cold.
More money spent on a compressor-type machine buys spur-of-the-moment convenience since the device can cool to the proper temperature within minutes.
And you can still go old school with a "bucket-type" ice cream maker that uses ice and rock salt and has to be churned by hand or with the help of an electric crank. Kids will be fascinated with the latter – until it's time to actually do the cranking, of course.
Other Ice Cream Maker Buying Considerations
Once you've decided the type of ice cream machine you want, the most important buying considerations are: the unit's capacity, the quality of its components and its ease of operation and cleaning. You may also want to look for models with clear tops so you can watch the process, or covers you can remove to add last-minute ingredients.
The Your House Garden Team has compiled our list of the top 5 best ice cream makers to include at least one of each type of machine and to fit a range of budgets.
Whether you're ready to dive into a delicious dish of the cold stuff right now or just planning for next summer, you'll find an appetizing choice just waiting for you.  Yes, the team suffered for this review, eating all the delicious ice cream was tough, but someone had to do it.
What are the top 5 best home ice cream makers, let's dig in to find out.
Yes, it's very expensive. Yes, it's more machine than you may need. But the Breville Smart Scoop puts the childhood "wow" back into ice cream, which comes out of this ice cream maker rich, creamy, perfect and absolutely yummy. (If it makes you feel any better, you could pay well over a thousand dollars for an "authentic" Italian gelato maker.)
The BCI600XL is a compressor model, so there's no overnight wait for the bowl to chill. It takes only a few minutes to get your ingredients to the proper temperature, and the pre-cooling function can cool down bases that you've cooked on the stove, like custards.
This machine can get down to -20° and will monitor the temperature to ensure it stays level through the process. And the stay-cool feature will keep your ice cream at the right temp and consistency for several hours, until you're ready to eat it (although it also beeps or plays music to tell you when your treat is ready). If you like your frozen dessert on the hard side, just put it into your freezer for a little while and it will have the stiff consistency of store-bought ice cream.
There's no frozen concoction that will baffle the Breville – or you. The machine has twelve different hardness and texture settings including ice cream, gelato, sorbet and frozen yogurt, and you don't have to switch out blades or accessories to make different types of frozen desserts.
The same high-quality plastic paddle and metal bowl are used for all of them and the ice cream maker is able to make all of the necessary adjustments internally. Once you've added ingredients all you have to do is choose your setting and push the button, although there's also manual functionality.
[youtube id="AfJ1PLN81mk" width="750″ height="340″ position="left"]
You can make 1½ quarts of ice cream in less than an hour with the Smart Scoop and if you need more, this compressor model is ready to go again immediately without having to re-chill the bowl.
The lid can be removed during freezing so you can put in "mix-ins" toward the end of the cycle (or grab a taste, if you can't wait), it's BPA-free and easy to clean, there's a child lock – and the final product is absolutely, positively 100% delicious.
It is a pricey machine, but the Breville is worth it.
Please note in the UK this brand has been labeled "Sage by Heston Blumenthal".
Facts and figures for the Breville BCI600XL Smart Scoop Ice Cream Maker:
Style: Compressor
Capacity: 1.5 quarts
Materials: Stainless steel and plastic
Settings: 12 for hardness and consistency, separate ice cream, sorbet, gelato and frozen yogurt settings
Removable lid during use: Yes
Size: 16 x 11 x 9 inches
Weight: 30 pounds
Warranty: One year, limited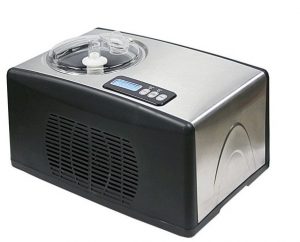 If you're salivating after reading the Breville review but would like to save a little money, the Whynter ICM-15LS is worth a long look.
It's very similar to the Smart Scoop in nearly every important way: it's a compressor-style 1½ quart ice cream maker with a pre-cooling function, it has multiple settings to let you make everything from ice cream to frozen yogurt, and it does its work automatically once you choose the setting and push the button.
The Whynter is easy to clean and even has a nice "auto-stop" function if things get clogged up. Most importantly, it makes delicious frozen desserts with terrific consistencies.
So why did Your House Garden rank the ICM-15LS below the Breville on our list of the top 5 best ice cream makers? First and foremost, it does have a tendency to ice up a bit along the sides of the bowl with some recipes, and isn't quite as good at making sorbet as it is for ice cream (which doesn't come out quite as creamy as with the Breville).
It also has just a small hole for inserting mix-ins during use (instead of a removable top) and is somewhat noisier than the Smart Scoop.
Despite those few negatives, we have no hesitation in saying that this is a great product and worth its price; the ice cream and gelato it produces is truly wonderful. If you are looking to save a bit of money then you'll definitely be happy with this Whynter.
More info on the Whynter ICM-15LS Ice Cream Maker:
Style: Compressor
Capacity: 1.6 quarts
Materials: Stainless steel and plastic
Settings: Ice cream, sorbet, gelato, frozen yogurt and hardness settings
Removable lid during use: No, just a small hole for adding ingredients
Size: 18 x 11 x 10 inches
Weight: 27 pounds
Warranty: One year, limited
Chances are, you won't be using your ice cream machine enough to be able to justify spending hundreds of dollars. Cuisinart has your back. We actually looked at two of their lower-priced models, the 2-quart ICE-30BC and the 1½ quart ICE-21. We believe that for the slightly higher price the larger model is better built and a better buy.
This older-style model doesn't have a built-in compressor so you need to take the aluminum canister and put it into your freezer to get cold before use. That can take anywhere from 12 to 24 hours, depending on the temperature of your freezer.
It also doesn't have "smart" settings; you chill the bowl, press "on" and add your ingredients through the unit's spout. It's best to keep an eye on the process rather than walking away, since the machine can't really tell when your ice cream is ready and it's easy to over-freeze a batch.
Even though there's not a dedicated setting for making frozen yogurt or sorbet, the Cuisinart does a good job with both. Where it really shines is making ice cream, turning out a full batch in half-an-hour (as long as you've gotten the tub cold enough beforehand and pre-cooled any cooked ingredients in the refrigerator).
Mix-ins go in through the spout, there's a transparent cover so you can tell when your ice cream is ready, and there's no comparison between the finished product and store-bought ice cream.
If you are after a budget model, with no built-in compressor that makes scrumptious ice cream, you'll never go back.
Details of the Cuisinart ICE-30BC Pure Indulgence Ice Cream Maker:
Style: Gel-filled canister, requires advanced freezing
Capacity: 2 quarts
Materials: Aluminum and plastic
Settings: None
Removable lid during use: No, ingredient spout
Size: 11 x 8 x 8 inches
Weight: 12 pounds
Warranty: Three years, limited
Check Cuisinart Pure Indulgence Ice Cream Maker Price on Amazon
Here's our choice for those whose budget is frozen – the Hamilton is more than sufficient to churn out yummy ice cream, sherbet and soft-serve style desserts.
The final texture of the finished product is softer than with the products we've looked at so far on our list of the top 5 best ice cream makers. Although for less than half the price of the Cuisinart Pure Indulgence, you won't do much better than that.
The 68880, like the Cuisinart, has a metal canister which must be put into the freezer overnight before you can make ice cream. This bowl tends to warm up more quickly, though, so err on the side of caution when you think it might be cold enough to get started and don't waste time once you've removed it from the freezer.
Operating the machine works just like with the Pure Indulgence; you put the bowl on the base, turn the switch to "on," add your ingredients and watch while they're turned into delicious ice cream. Once again, it's a good idea to watch the process to prevent over-freezing.
The biggest drawbacks to this Hamilton Beach are that the top of the unit is open throughout operation (making it easy to add mix-ins but failing to keep all of the cold air inside) and that it's extremely loud to run. The biggest positives are that it makes good ice cream quickly, and it's a good product at a low price.
Digging deeper on the Hamilton Beach 68880 Ice Cream Maker:
Style: Gel-filled canister, requires advanced freezing
Capacity: 1.5 quarts
Materials: Aluminum and plastic
Settings: None
Removable lid during use: No lid, top remains open
Size: 14 x 10 x 10 inches
Weight: 8 pounds
Warranty: Two years, limited
Want to show the kids how grandma and grandpa used to make ice cream? This cool throwback ice cream maker uses ice and rock salt to make frozen treats the old-fashioned way with one modern convenience: you don't have to churn the ice cream yourself. There's an electric motor that actually does the work for you.
The added benefit to the Nostalgia ice cream machine is that it's huge. You can make a full gallon of ice cream, gelato or frozen yogurt in half-an-hour, once you've layered your ingredients, the salt and ice into the chilled aluminum canister. That makes it great for family gatherings or outdoor parties. Just be certain you've gotten the canister cold enough, since it takes a while to chill one this large.
Cleaning the Nostalgia ICMP400 can be a pain since it's not dishwasher-safe and the rock salt can harden to the container pretty quickly. It's also very sensitive to "not being cold enough" and you might end up with ice cream soup if you're not careful.
When used properly the ice cream truly does taste homemade, and it's a lot of fun to use with the family.
Specs for the Nostalgia ICMP400BLUE Vintage Collection Ice Cream Maker:
Style: Old-fashioned ice and rock salt, electric churner
Capacity: 4 quarts
Materials: Aluminum and plastic
Settings: None
Removable lid during use: No lid, top remains open
Size: 17 x 15 x 16 inches
Weight: 6 pounds
Warranty: 90 days
Check Nostalgia Vintage Collection Ice Cream Maker Price on Amazon
Of course once you have made your ice cream you will probably need a top of the range mini fridge or chest freezer to put it all into!