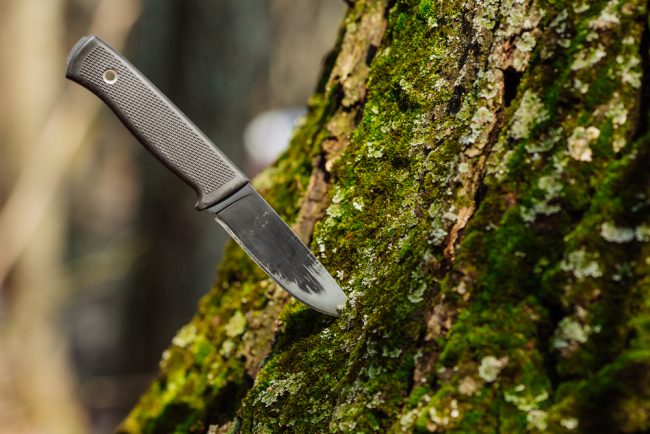 Whimsical discussions about being marooned on a desert island or being lost deep in the wilderness always focus on important issues like "What album would you absolutely have to have with you?" or "What celebrity would you want to be with?"
The really important question never seems to be addressed: "What survival knife would you need to make it through the ordeal?" We're not thinking about killing lions for food or fending off marauding zombies here; we're talking about a knife which can let you split wood, fashion a makeshift shelter and filet a fish while you're waiting to be rescued. Something that you can take with you on a backpacking trip and know it will serve your every need.
What you need in dire circumstances like that is a survival knife – and not just any survival knife. You need a large, fixed-blade knife with a strong, single-edged blade – and you'd do yourself a favor by choosing one of the implements from Your House Garden's best survival knife top 5 list for your hobby
.
1. ESEE 6P-B Plain Edge Fixed Blade Survival Knife
If you're truly in survival mode, you don't need something fancy. You need something sturdy and reliable that can handle the difficult tasks required to stay alive in a remote area. That perfectly describes the ESEE 6P-B Fixed Blade – the first large knife from this terrific company.
This knife isn't a status symbol. It's a classic with a 6½ inch blade made of heat-treated, coated 1095 high carbon steel, the perfect choice for durability as well as versatility. The 0.188-inch blade is exceptionally strong, and you'll have to really do something unusual with this knife for the blade to lose its edge; you can cut wood or rope and then skin your dinner, and the blade will be as sharp as when the knife came out of its packaging. (The carbon steel is a great choice, as long as you keep the knife clean and lubricated to prevent rust.)
Because it's a drop point blade, you have maximum control when doing precision work with the 6P-B, while the long, straight section of the blade lets you take long strokes when carving.
The 6P-B is just under a foot long and is full tang, making it a well-balanced camping, hiking or wilderness companion with strength for the long term.
The removable handles on this ESEE best survival knife are made from linen Micarta. They're able to sustain a tremendous amount of wear, even if you use your knife for batoning, and they're easy to grip with wet or dry hands or while wearing gloves. There is a thumb ramp along the ridged spine for additional control. The ESEE also comes with a high-quality blade-tech molded polymer sheath and removable clip.
This knife feels great in the hand and can take on any survival (or ordinary camping) task you can think of. Add in a lifetime warranty and the reputation of ESEE for making high-quality knives and you have a real winner.
Specifications of the ESEE 6P-B Plain Edge Fixed Blade Survival Knife:
Length: 11.75 inches overall, 6.5-inch blade length
Weight: 12 ounces
Blade: 1095 carbon steel, black powder coated, drop point, full flat grind
Maximum blade thickness: 0.188 inches
Handle: Linen Micarta slabs, removable, rounded pommel with lanyard hole
Sheath: Molded polymer
Made in the USA
Warranty: Lifetime
Whether you're ex-military or just always visualized yourself as Rambo, you'd be happy to have the SE38-N in your hand or in your sheath. SOG makes exceptional knives, and while this model is often marketed as a hunting knife, it can do much more.
This baby is practically unbreakable thanks to a full tang, thick AUS-8 steel blade with minimal grind and a high-strength handle. It will perform perfectly time after time, whether you're cutting wood, breaking glass or gutting wolves, and it's a pleasure to hold and work with.
Let's start with a look at the thick blade. It's six inches long, fashioned from AUS-8 stainless steel that's been titanium-nitrate coated to fight corrosion, and has undergone proprietary cryogenic heat-treatment to strengthen the steel and improve its edge retention.
The fixed blade has a clip point shape for perfect control and deep punctures; the upper third of the blade is serrated, making the Force Knife exceptionally versatile on the trail, in the woods, or anywhere else. It's also exceptionally sharp and will keep its edge with just a minimal amount of maintenance.
The handle of this SOG survival knife is one of the strongest you'll ever see, made from high-strength, impact-resistant, glass-reinforced nylon which we have to believe wouldn't break under any circumstances imaginable. Baton away to your heart's content with this one. The handle has an unusual checkered pattern which makes for a perfect grip but may leave your hands feeling a bit sore if you use this knife for difficult tasks that take a while. Gloves would be a good idea. There are also finger grooves and a thumb notch for added control of the knife. An unusual and terrific feature is that the handle is ambidextrous; lefties can celebrate. There's a nylon sheath with an accessories pouch and MOLLE attachment included with your purchase.
If you put the SOG Force Knife on a table next to an ESEE 6P-B and asked us to choose just one, we'd have to think a long time before choosing the ESEE knife because of its bare-bones, sturdy and comfortable feel – and we'd probably choose the SOG if we were left-handed. For you, the deciding fact may be the price; the Force Knife is cheaper than the ESEE. Either way, you wouldn't go wrong.
Going in-depth with the SOG Specialty Knives SE38-N Force Knife:
Length: 11.25 inches overall, 6-inch blade length
Weight: 10.5 ounces
Blade: AUS-8 stainless steel, TiNi coated, drop point, minimal grind
Maximum blade thickness: 0.24 inches
Handle: Solid glass-reinforced nylon, edged pommel, lanyard hole
Sheath: Nylon
Warranty: Lifetime
Let's get the things that might count as negatives for the Fallkniven A1 out of the way first. It's made in Sweden (but constructed much better than IKEA furniture), and it's the most expensive of the medium-to-long blade implements on our list of the top 5 best survival knives.
Now, the positives. This is a wonderful full tang knife, with plenty of attention paid to the details of its construction. It particularly stands out in wet and humid conditions because it's designed to resist rust, even on the cutting edge where water-resistant coating isn't practical as a long-term solution.
The A1's blade is constructed from tough, laminated VG10 steel which isn't going to rust even in the rainy Northwestern US or in the dead of a Midwestern winter. What exactly is VG10 steel, you ask? It's an alloy that some have called "super steel," made from carbon, chromium, cobalt and several other hard metals. This blade will cut through almost anything and remain razor-sharp.
The Fallkniven's handle looks like it belongs on a lower-echelon tool hanging on a garage pegboard, but don't let the appearance fool you. It's made from Kraton, a polymer much like rubber but stronger; it will stand up to weather and wear better than almost anything else used for the purpose. You probably couldn't design a better handle for batoning wood, and at the same time, its ergonomic design allows you to keep a rock-solid grip on this best survival knife, wet or dry. There's a finger guard and a lanyard hole. The A1 is sold with a Zytel sheath, which is lightweight and similar to nylon but stronger and more resistant to wear.
If bad guys should attack you without warning, the Fallkniven A1 would be a potent weapon. It's just as potent, though, if you have food to slice, wood to chop and rope to cut. It's priced a little too high for us to make it our #1 selection, but if you've got the extra bucks it's a terrific luxury to be stranded with.
Facts and figures for the Fallkniven A1 Survival Knife:
Length: 11 inches overall, 6.33-inch blade length
Weight: 13 ounces
Blade: VG10 stainless steel, laminated, modified drop point, convex grind
Maximum blade thickness: 0.24 inches
Handle: Kraton, slightly-rounded pommel, lanyard hole
Sheath: Zytel
Warranty: Ten years
4. Morakniv Companion Heavy Duty Knife
Not everyone has hundreds of dollars to drop on a knife. If you knew in advance that you were going to need a "survival knife" you'd probably be willing to lay out a little extra, but most people are buying knives to take hunting, camping, hiking, or fishing, not to guarantee their survival. And when you're short on cash or just buying your first heavy-duty knife, you can't do better than this Swedish Morakniv model.
The Mora name is well-known for affordable, high-quality outdoor tools, so you would expect this best survival knife to be well-built and versatile – and you wouldn't be disappointed. The drop point blade is shorter than our other choices (four inches) and thinner than most (0.1 inches thick), but it's made from high carbon steel for durability and holds its edge quite nicely, as long as you protect it from the elements which could cause it to rust.
The grind is classic Scandinavian, so the blade is easy to sharpen when and as often as necessary; it is a flat grind with a single bevel which makes sharpening slightly easier due to the large surface area.
The large handle of the Morakniv is simply made of very sturdy rubber, but that helps in the weight department (this knife only weighs five ounces) and the patterned high-friction grip on the Companion HD ensures you can maintain a comfortable, firm hold on the knife in wet weather. A matching plastic sheath with belt clip comes with this knife.
Whether you need to carve, cut, baton, slice or defend yourself against a ferocious polar bear (do they have polar bears in Sweden?), the Morakniv can do it all at a terrific price.
More details on the Morakniv Companion Heavy Duty Knife:
Length: 9 inches overall, 4-inch blade length
Weight: 5 ounces
Blade: High carbon steel, drop point, Scandinavian grind
Maximum blade thickness: 0.1 inches
Handle: Rubber, edged pommel
Sheath: Plastic
Warranty: Lifetime, limited
5. Tops Knives Tom Brown Tracker #3
The Tom Brown line has never been our favorite, but it's such a classic and loved by so many that we thought the full tang, multi-blade Tracker #3 deserved a spot on our top 5 best survival knives rankings.
It's easy to be fooled by the compact build of the Tom Brown Tracker, but there's definitely a powerful multipurpose tool behind its somewhat-odd look. The blade, which is made from ATS-34 stainless steel and coated with black traction epoxy, is actually comprised of three smaller sections: a carving blade, a sawback notched blade for sawing or notching, and a chopping blade. To our mind, it's a lot of little blades without the heft of one big one, but many, many satisfied Tom Brown customers obviously think otherwise.
The handle is durable linen Micarta, with an extended grip handle that can be held in three different positions to accommodate use of the three different blades and a lanyard hole. The included sheath is made of Kydex, with a belt clip.
You'll be able to use this knife to chop wood, gut fish and saw branches with ease – but if your survival involves combat, the Tom Brown probably isn't your best bet, unless you're planning to throw it.
The specs of the Tops Knives Tom Brown Tracker #3:
Length: 11 inches overall, 5.5-inch blade length
Weight: 13 ounces
Blade: ATS-34 stainless steel, clip point
Maximum blade thickness: 0.21 inches
Handle: Linen Micarta
Sheath: Kydex
Made in the USA
Warranty: Lifetime, limited
The team at Your House Garden loves the great outdoors, so we have also brainstormed 30 Things to Include In Your Wilderness Survival Pack or Kit.