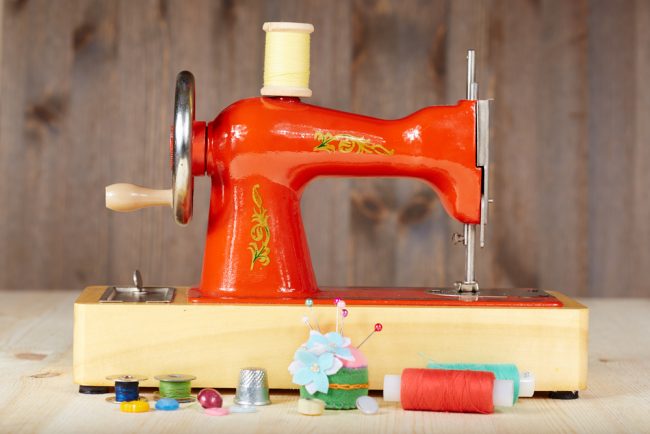 Most accomplished sewers – or even those who can "get by" – learned how to stitch from someone in their family, and it's likely that they've been using a recommended sewing machines since they were young.
Learning how to use a machine when you're a little (or a lot) older can seem intimidating, since most of today's sewing machines have a boatload of features that your mother or grandmother could only dream of when hunched over their old Singers: LCD displays, automatic needle threaders and stitch memory.
There are a number of machines, though, which are designed for those just learning to sew – so let's check out the top 5 best sewing machines for beginners.
At the outset, please forgive us for giving a top ranking a machine with tacky yellow flower decals prominently placed on its front. If anyone comments on them, just tell them you originally bought it for your daughter or niece who didn't want it.
Now that that's out of the way, let's talk about a great sewing machine with smooth, even stitching, simple-to-understand and easy-to-use controls, a large sewing surface, and a convenient foot pedal allowing you to carefully control your sewing speed.
The Magnolia 7318 doesn't require detailed study of the user manual, either; it's intuitive to use with a basic understanding of how a sewing machine works.
[youtube id="nbx8w-tTkBM" width="750″ height="340″ position="left"]
Other positives for this Janome model include 18 stitches, a top-loading bobbin (much easier for beginners to work with than the trickier and often fussy bottom-loading ones), a seven-piece feed dog which pulls cloth at the proper speed, a larger-than-normal ruler on the sewing surface, adjustable needle position, and a buttonholer which makes perfect holes (even though it is a four-step process rather than that used with a more convenient one-step buttonholer).
There are a few negatives (in addition to the flowers), such as the lack of an automatic needle threader or a lever which moves the needle up and down. We think those are small drawbacks, though; what's more important is that the Magnolia is solid, performs extremely well, and won't frustrate a beginning user who is trying to learn how to stitch. It's priced right in the middle of the range you'd expect to pay for a lower-end machine.
Looking at the specifications of the Janome Magnolia 7318 Sewing Machine:
Dimensions: 19 x 10.5 x 15 inches
Weight: 17 pounds
18 stitches / four-step buttonholer
7-piece feed dog
Drop feed
Extra high presser foot lift
Free arm
Top loading full rotary hook bobbin
Push-pull bobbin winder
Snap-on presser feet
Stitch selection dial
Warranty: 20 years parts, 2 years electrical, 1 year labor
2. Singer 4411 Heavy Duty Extra-High Speed Sewing Machine
Yes, Singer is still making quality machines, even today. And this one is almost as solid as the one your grandmother had, with a metal interior frame and a stainless steel bedplate. It's about $25 cheaper than the Janome, so if every penny counts for you the 4411 is worth checking out.
The best thing about this sewing machine (other than its quality) is the evenness of the stitching it produces with just about any fabric, including tough ones like denim. A beginner wants to see encouraging results, and the Singer 4411 delivers.
It also has easy-to-use and easy-to-read controls as well as a three-position adjustable needle.  It has a foot pedal similar to the Magnolia's (although this one is a little touchier to control) and the bobbin drops in from the top.
There is no automatic needle threader which depending on your viewpoint might be an issue.  Some beginners like to get experience threading the needle themselves while other beginners don't want the hassle.  If you fall into the latter category you could always consider the Singer 4423 which comes with an automatic needle threader.
You do have to settle for less with a second-choice, though. There are only eleven stitches, the four-step buttonholer is a little flimsy and doesn't perform to the level we'd like, and the "extra high-speed" of the machine means it can run a little too fast for people just learning to control it. Even so, it's a strong beginner's machine.
Checking the specs of the Singer 4411 Heavy Duty Extra-High Speed Sewing Machine:
Dimensions: 15.5 x 6 x 12 inches
Weight: 14.5 pounds
11 stitches / four-step buttonholer
Free arm
Top loading bobbin with clear view cover
Stitch selection dial: 1,100 stitches per minute
Stainless steel bed plate
Heavy-duty metal frame
Top drop-in bobbin with clear view cover
Three needle positions
Adjustable presser foot pressure control
Warranty: 25 years, limited
Those who are really into sewing will tell you that Bernina's machines are among the very best at the top end of the price scale. Bernette is their budget line of machines (Bernina doesn't actually manufacture the machines, but does consult on the design and approve the final products), and the b35 has much of the quality you'd expect from a Bernina machine.
The machine acquits itself well as a beginner's choice with a solid metal chassis providing sturdiness, important for novices. This mechanical machine has a satisfactory 23 stitches (utility and decorative stitches), 7 snap-on presser feet/soles and an automatic one step buttonhole function.
It is extremely simple to use right out of the box, it has variable stitch width, an automatic bobbin winder, twin-needle capacity and a needle thread cutter (always helpful). For the price and with the Bernina name attached, it's a really good buy if you're just starting out. (There's also a more expensive Seville 4 now available.)
Running down Bernette sewing machines 35 review:
Dimensions: 17.1 x 11.8 x 14 inches
Weight: 15.8 pounds
23 stitches
Free arm
860 stitches per minute
Heavy duty metal chassis
Automatic bobbin threader
Extension table
Adjustable presser foot pressure control
25-year limited warranty
4. Brother SE400 Combination Computerized Sewing and Embroidery Machine
It may be cheating to include this Brother model in a list of beginner's sewing machines, but we decided to feature it because it's a machine you can start out with and then keep as you progress to higher stages – at a price that isn't much higher than our top-rated choice for novices.
[youtube id="4HSHVaeBuSI" width="750″ height="340″ position="left"]
Here's what you get with the SE400: 67 stitches, five lettering fonts, 70 pre-installed embroidery designs (with a 4×4 dedicated embroidery area), and a USB port which lets you easily connect to your computer to download as many designs as you can find online. But it can also operate in a much simpler mode for beginners, with the features you want when just starting out: automatic needle threader, drop-in top bobbin and automatic winding, 7-point feed dogs which move the fabric smoothly and easily, and even a one-step buttonholer. The terrific manuals, diagrams, and tutorials which play right on the LCD screen let you get going quickly, too.
This is a lightweight, sturdy sewing machine which you won't want to give away once you've mastered the basics. It will serve you well for years once you've used it to learn on. And it's only slightly more expensive than the Janome beginner machine we've ranked #1.
Running down the specs for the Brother SE400 Combination Computerized Sewing and Embroidery Machine:
Dimensions: 20 x 15 x 15 inches
Weight: 11 pounds
67 stitches / 70 embroidery designs / one-step buttonholer
Free arm
7-point feed dogs
4×4 embroidery hoop
Backlit LCD touchscreen
Automatic needle threader and thread cutter

Free arm

Automatic bobbin threader
USB connectivity
Warranty: 25-years, limited
5. Brother XL2600I Sew Affordable 25-Stitch Sewing Machine
You may not be certain whether you'll stick with sewing as a hobby once you've learned. In that case, you probably don't want to lay out a lot of money just to figure things out – which makes the Brother XL2600I the machine for you.
We'll be totally honest. This isn't a terrific sewing machine; it's just a really good one to learn on. If you decide that sewing is for you, you'll want to upgrade unless you're going to stick to relatively unchallenging craft work. But until you reach that point, the Brother has everything you need to become proficient: a free arm, 25 stitches, needle threader and thread cutter, automatic bobbin winding for your top drop-in bobbin and a one-step buttonholer.
The sewing gets a bit rough when using the XL2600I on thick fabrics, and the mostly-plastic machine clearly isn't built for the long term. Since we're not recommending this for the long-term, though, we think it's a very good value for the novice at around 75 bucks.
Important specs for the Brother XL2600I Sew Affordable 25-Stitch Sewing Machine:
Dimensions: 12 x 8 x 9.5 inches
Weight: 11 pounds
25 stitches / one-step buttonholer
Free arm
5-point feed dogs
Automatic needle threader and thread cutter

Free arm

Automatic bobbin threader
Foot pedal
Warranty: 25 years, limited